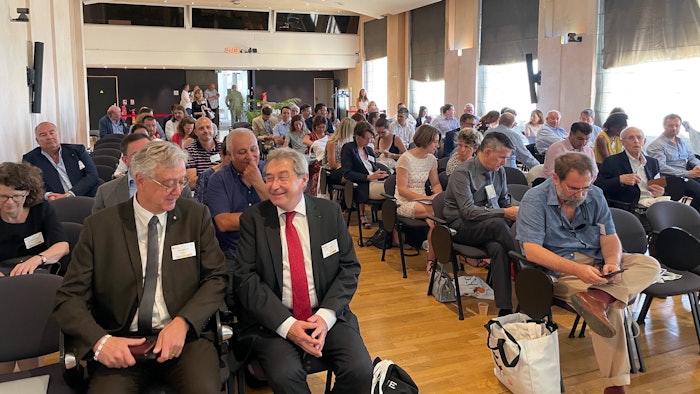 Photo credit: LAURE MOUTET
After a two-year hiatus due to COVID-19, the European Federation of Essential Oils (EFEO) reconnected for its Annual General Meeting.

Related: Everyone We Saw at the EFEO Garden Party
Attendees were welcomed by Grasse's mayor, Jerôme Viaud, followed by five sessions:

Featuring outgoing EFEO president, Elisabeth Vossen giving a summary of the last two years within the organization. The EFEO has grown to 80 members, now boarding nine member federations. Vossen also welcomed four new board members including Michel Meneuvrier (Plantes Aromatiques du Diois), Andrey Mitov (Vigalex), Belén Esteve (Lluch) and Philippe Soguel (Distillerie Blue Provence). Over the two year period, EFEO has launched a new logo and a revamped website. Vossen also discussed the current obstacles in the industry, with an emphasis on regulatory challenges. Including:

• CITES : Gaiacwood import restriction from Paraguay
• Pesticides: Chlorpyrifos (transitional period) & EFFA taskforce
• Limonene re-classification
• REACH: Consortium support
• CSS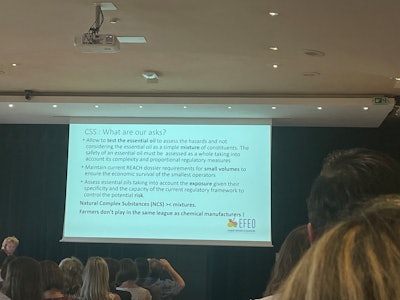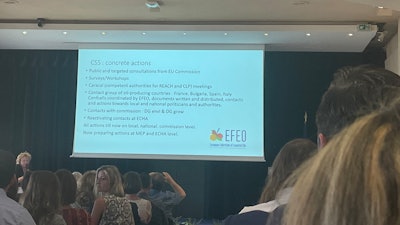 2. Next up was Marc Vocanson, team leader/research scientist at CIRI (Centre International de Recherche en Infectiologie) for his session, "New methodologies to assess allergens and diagnose skin allergies." One interesting finding from the various studies was the importance of identifying whether or not a skin reaction is an irritant rather than an allergic reaction. Vocanson discussed the MODAL project (MOlecular Diagnosis of skin ALlergy). The objective is to define the molecular signature of skin allergy, le. a set of ACD biomarkers that can identify with precision a patient with a true skin allergy. The perspective is that biomarkers will serve as a platform for the development of a new medical device.
    3. Followed by Graham Ellis, global regulatory senior director of Firmenich SA for his session, "EFEO and Allergens-How Sound Science Informed Regulation." Ellis discussed the risk management of fragrances, QRA outcomes as well as science vs. advocacy. Please see photos below outlining Ellis' discussion. After the session, the crowd erupted with questions on what these restrictions for regulatory requirements mean for the future of the fragrance industry. How does the industry gain (and/or regain) the trust of regulators? What is the level of difficulty? The EU Green Deal draft is tentatively scheduled to be released by the end of 2022, with the final version scheduled for the end of 2023.
    4. Jean Mane, CEO of Mane, took the stage to discuss "How I've Been Keeping my Common Sense Through 20 Years of Regulatory Storm." Mane "What will keep an entrepreneur alive is a solid sense of humor." Mane's presentation was tongue in cheek, inviting a counterpart on stage to act as a representative of the regulatory industry. The regulatory rep would mention a stipulation introduced in the industry (labeling, production, supply chain, testing, etc.) whether by consumer demands/social media trends then enforced by regulatory, which Mane would then share a counterpoint to the stipulation along with the effect on the F&F business (as well as semantic debates). The F&F industry needs to build trust with the relative authorities by proving that businesses have sustainable and safe practices with the help of the EFEO in order to move forward. Businesses need to be aligned in this mission. Enjoyable and informative.
    5. Finally, Thierry Duclos, EFEO founding member, discussed "20 Years of EFEO." The organization's evolution, highlighting key players in its growth and more
Want to know everything going on in flavor & fragrance? Sign up for P&F+'s newsletter. You can also follow along on Instagram and LinkedIn.