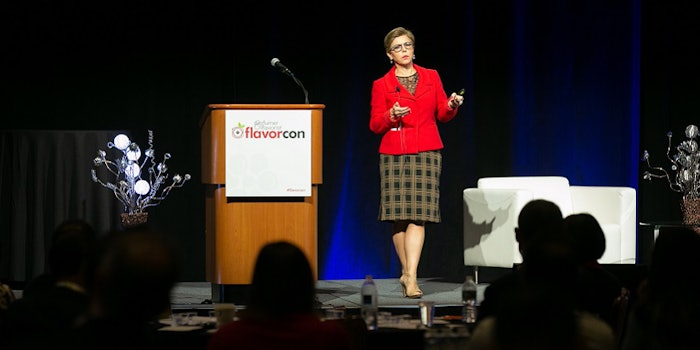 From fresh flavors to solubility challenges, day two of Flavorcon focused on the many aspects of flavor and how the industry is propelling product innovation and development.
Formulating Fresh Flavors in Oral Care 
Keynote, Cataline Lee, worldwide director of global flavor and fragrance for Colgate Palmolive Company, presented "Decoding Flavors for Oral Care," where she discussed global flavor trends for oral care and the various mints that Colgate uses.  
"First of all, we really have to know the stability [of materials]. We have to provide sensations in order to innovate … and we also have to identify the best masking solutions," said Lee. "Here is where our hero ingredient comes in – mint oil."     
Lee highlighted how mint oil addresses many of the formulation challenges of oral care flavors. Since mint is high in menthol, it provides the application with an ability to mask undesirable and off notes. Mint also provides oral care its sensory sensations due to its ability to impart a refreshing, cooling effect. Lee went on to describe the two most commonly used mints: mint arvensis and mint piperita. Outside of mints, Lee described how cinnamon, clove, spice and vanilla flavors are being used in oral care products to provide a sense of warmth in India. Additionally, citrus oil and floral flavors are used in regions like Asia and the Middle East, respectively.  
A Global Take on Cuisine
Switching from fresh to savory, the second presentation of the day featured insight from chef Richard Calladonato, former executive chef and director for Campbell's. In "Developing Flavor: Where Culinary Classics Meet Flavors of Tomorrow," Calladonato discussed two classic dishes – grilled cheese and Pad Thai.  
Though the same ingredients can be used to create these flavors, no two dishes taste the same. To demonstrate how the same ingredients can create different flavors, he sampled a traditional chicken broth with savory notes and one that provided a twist on the traditional flavor that imparted a slight bitterness. He also shared his experience of trying different Pad Thais in the night market of Bangkok and how he realized that it wasn't just the ingredients but how they are used and what they are cooked in. Moving to the United States of classic flavors, he discussed grilled cheese and how consumers crave the savory blend of buttery, cheesy and brown flavors.  
"What they are really looking for is the next generation of flavor, they are looking for that little hunk of cheese. They are looking for that Pad Thai that tastes authentic in a consumer good," Calladonato explained. 
Superfoods and Novel Citrus Flavors
Following the talk on trends, the conversation moved back to materials with a presentation from Danny Hodrien, managing director and chief flavorist for F&F Project Ltd., about superfoods (specifically Maqui berries and watermelon seeds) and a presentation from Richard Pisano Jr., president of Citrus and Allied Essences Ltd, about novel citrus flavors.
Native to the rainforests in Chile and Argentina, Maqui berries are known for its functional benefits including weight loss, detox properties and cardiovascular health. The berries were analyzed with SPME and GC/MS at F&F Projects Ltd., where 300 flavor compounds were found. Some of the compounds include linalool, hexanol, ethyl butyrate, ethyl acetate and ethyl alcohol, among many others. 

Watermelon seeds are sought out for its high protein, energy-boosting properties, digestive support and cholesterol benefits. The seeds contain approximately 60 flavor compounds and an additional 100 when roasted. More research needs to be done to improve flavors that might be lost in drying, baking and freezing. 
From superfood to citrus flavors, Pisano discussed unique citrus flavors like mandarin, blood orange and yuzu during his presentation, "Novel Citrus Varieties, Their Individual Flavor Profiles and Uses." Starting with an Italian mandarin oil of the Tardivo di Ciaculli variety, the oil imparts juicy flavor characteristics and sometimes fishy notes to flavor formulations. Popular in European markets, blood orange has only begun to appear in U.S. markets. The Tarocco variety of blood orange, which was sampled, is the most flavorful type of blood oranges with a sulfury, green profile. Lastly, he highlighted a yuzu oil, which is produced in Japan and provides pine and papaya characteristics to formulations. 
"For most citrus species, there are many varieties, hundreds of varieties. Not all of them [have] essential oils produced," said Pissano. "Essential oils need to be commercially viable and there has to be a significant pool of fruits to make it worthwhile." 
Beets, Beverages, Breakthroughs
Ilana Orlofsky's presentation, "The Most Disruptive Beverages You Should Know About," highlighted popular ingredients in beverages and popular flavor trends. 
Starting with water, she spotlighted how energy waters, tree waters, caffeinated and protein-fortified waters are all pushing the boundaries of what was previously accepted in the category. From there, she highlighted several ingredients that have made their way into all kinds of beverages, including matcha, CBDs, MCT oils and apple cider vinaigrette. The overall trend of these products and ingredients is tapping into the consumers' desire for products that address flavor innovation, well-being and health concerns.  
Taking a forecast of flavor trends to come, Orlofsky said, "Definitely, [we are] going to be seeing less traditional fruits, more exotics fruits and also less conventional vegetables …Beets, in particular, is one that we are watching and is starting to proliferate. We've seen in both in food and beverage." 
Solving Solubility 
In "Solubility and Flavor Performance," Cindy Cosmos, principal flavor chemist for Bell Flavors & Fragrances, highlights issues surrounding solubility and how to address them.  
"We can make a great flavor. It can smell great and taste great. Then, we watch it fall apart," said Cosmos. "Have your flavors ever been blamed for this … 'Why does my beverage have a white ring at the top, these gummies have no flavor after two weeks, the flavor isn't staying in my marinate or dressing.' Flavors can be blamed for just about anything, in any product. We are the culprit. The solution can be summed up in one word: solubility."
A flavor is comprised of a solute (the flavor itself) and a solvent (the carrier) that produces a solution and comes in either liquid compounds or powder chemicals. To create a stable flavor, Cosmos suggests the order of addition be based on the component's solubility threshold. Additionally, a stress test should be implemented to overcome issues from transportation, as well as considering the packaging and final product appearance. 
A Toast to Whiskey and Beer Flavors
Capping off day 2 was a toast to craft beer and whisky flavors with a presentation from Shane McDonald, Ph.D., principal flavor chemist for Kalsec, followed by a presentation from Ewan Morgan, national director for Diageo Reserve Program. 
In the "Craft Beer Flavor Infusion" presentation, McDonald gave a primer to the history of craft beer and how its flavors can be used in flavor development. American craft beer got its start in the 1980's as people became enthused about home brewing, which later became legalized. At that time, brewers only focused on the basic ingredients – water, yeast, hops and malts. Following a period of growth, the craft beer trend of the 1980's died down before being revitalized in the 1990's with developers who embraced a variety of unique flavors. Today, craft beer flavors have become so popular that they are spilling over into other categories, including sauces and seasonings, snacks, meat products, cheeses, confections and other. In 2016, 74 products launched with craft beer styles flavors, followed by another 58 in 2017.    
Craft beer flavors provide several unique challenges for the flavorist and flavor professional. Hop flavors can be particularly hard to work with, as they often contribute bitterness and can contain off notes. Additionally, just adding hop oil to a flavor formulation is not enough. Other flavor challenges include regulatory considerations (Halal and others), beer's high-water content that generally results in lower flavor concentrations and cost.
The conversation turned from beer to spirits for the final presentation of the day. In Morgan's "The Formation of Flavor in Whisky," he gave a history and primer to whisky flavors and its production. The first known reference to Scotch whisky was found in 1494 in the Exchequer Rolls of Scotland, where friar John Cor was tasked to create whisky for James IV. In the late 19th century, whisky grew to a global flavor due to the impact of phylloxera insect, which was responsible for destroying most of the vineyards in Europe.
Following a history of whisky, Morgan dived into the Clynelish style of Scotch whisky and provide insight to whisky's flavor characteristics and how to manipulate them. Single malt whisky production takes barley, corn, rye and wheat and processed through milling, mashing, fermentation, distillation and maturation. At each level, the distiller works to control conditions and manipulate flavor. If you are looking to create a nutty/spicy whiskey flavor, the fermentation time would be around 40-50 hours, while fruity flavors are produced at 100 plus hours. Distillation is also crucial to the flavor development of whisky. When distills are run hot, it provides less copper contact and produces heavies, more sulfury flavors. Similarly, the maturation process of whisky provides other flavor characteristics. At only 0-3 years of maturation, the whiskey still has its smoky flavors but over time it dies off and becomes sweeter.
At the end of the presentation, Morgan cheered the crowd at Flavorcon and said, "That is why we are here today. We can control flavors. We can manipulate flavor. We make the world a much better place and we make people smile because we are in charge of these flavors."  
*Correction: It was previously stated that MCT oil and orange terpenes were found in roasted watermelon seeds, which was not the case.