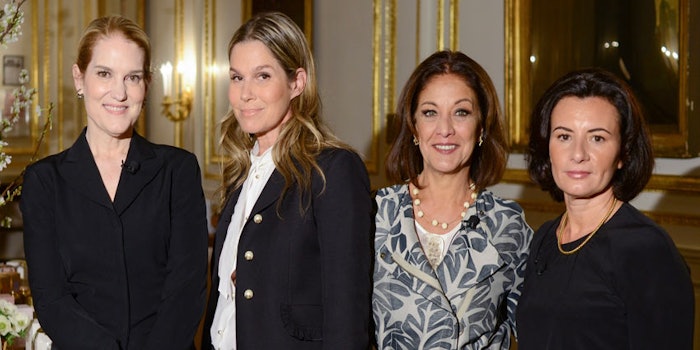 Bringing together the creative and business-oriented minds of the global lifestyle brand, Aerin, the Fragrance Foundation hosted a high-profile panel discussion during its Creatives breakfast event at the Metropolitan Club on March 27, 2018 in New York City.
Moderated by beauty columnist and blogger, Jane Larkworthy the panel featured Aerin Lauder, founder of Aerin; Karyn Khoury, senior vice president, corporate fragrance development, Estée Lauder; and Honorine Blanc, master perfumer, Firmenich. The discussion explored the balance between maintaining creativity and sharpening business acumen for the Aerin brand.
Inspired by Aerin Lauder's signature style, the Aerin brand features fine fragrance and body products, as well as home fragrance. The brand ranges from artisanal ingredients with unique combinations in Aerin Premier to the discovery of texture and emotion based on Lauder's personal experiences in Aerin Collection.
The three panelists shared viewpoints on the flow of communication and collaboration between brand owner, brand development and perfumery. "It's all about the formula and the structure," Blanc said; while Khoury mused that flexibility between the brand and perfumer is essential in a successful launch. One point was clear during the panel: creating a fragrance is just as much as collaborative effort as it is a personal one.
Blanc referred to the lack of time available in fragrance creation due to the exceptionally high rate of launches in the marketplace. The fragrance market is currently saturated with a plethora of brands ranging from commercial to indie. By 2020, global fragrance is expected to reach $58,312.3 million, compared to $46.164 million in 2015a. The premium beauty and personal care market are expected to reach $135,134.5 million by 2020, compared to $102,670.2 million in 2015b.
Despite segmentation in the fragrance due to disruptive distribution models, shifting consumer preferences and scarcity in raw material supply, brands and fragrance houses are met with the challenge of balancing a timely launch with memorable scent experiences.
a,b Euromonitor data