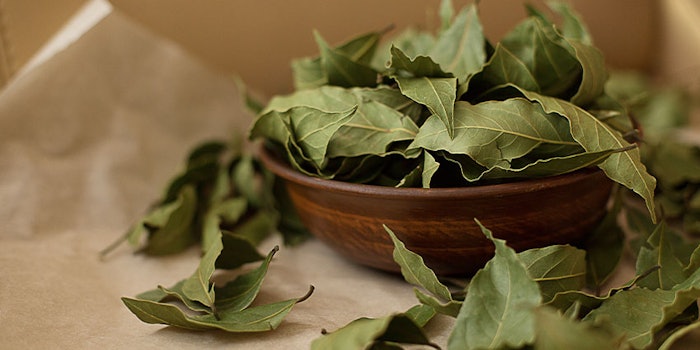 Givaudan is set to unveil nature-conscious scents as part of its invite-only This is Naturality webinar on Thursday, January 14, 2021.  
Previously: Givaudan Named to CDP A List
The event will center on sustainability and naturality in fragrance and is said to offer participants the ability to experience nature-conscious fragrances created by Givaudan perfumers.
Perfumer & Flavorist+ was able to chat with Emily Bond, head of the fine fragrances North America fragrance division at Givaudan about the concept. 
Perfumer & Flavorist+ [P&F+]: To begin, how do you define a sustainable or "more sustainable" fragrance? What are the criteria?
That's why as part of Givaudan's purpose—Creating for happier, healthier lives with love of nature. Let's imagine together—we recognize how important it is that we have a positive impact wherever we source and operate.
We ensure that our raw materials are sourced in a way that's mindful of people and the environment, and significantly contributes to reducing the footprint of the products we manufacture. By living our purpose we will be a successful, sustainable business acting as a force for good in the world.
Our approach to sustainability, captured by our purpose, focuses on four pillars:
Creations: We create inspiring products for happier, healthier lives by offering customers and consumers preferred solutions focused on renewable, biodegradable and viable natural options, especially in the area of health and well-being.
Nature: We show our love for nature through impactful actions by creating for a more sustainable world. We will strengthen our responsible sourcing and traceability program as well as drive supplier engagement on environmental actions, and reduce our environmental footprint by further leading actions in climate, water and forest preservation.
People: We strive to nurture a place where we all love to be and grow by being a leading employer for diversity and inclusion, caring for our people's health and well-being and building the leadership and expertise of all our people.
Communities: We bring benefits to each of the communities we work with by doing business with our suppliers in a responsible way, fostering high standards in health, safety, social, environmental and business integrity to source all materials and services in a way that protects people and the environment.
P&F+: How does being nature-conscious when creating fragrances benefit sustainability?
EB: Givaudan continues to push forward nature-conscious fragrance development and lead the industry into a new era of responsible fragrance design. Initiated three years ago, Givaudan embarked upon the creation of The Naturality Platform which allows us to create in an eco-minded way. Our naturality development encompasses:
Clean Reassurance, which is design adapted to clean labels for fragrances formulated "without."
Nature at Origin takes into account a spectrum of natural design from nature inspired and safe nature identical to certified naturally derived, all the way through to 100% natural.
Sustainable Planet, which focuses on biomimicry, renewable and biodegradable options.
Many wonderful and unexpected solutions are already emerging from the platform, from fine fragrances, personal care and home fragrances, to the consumer products arena such as fabric care.
P&F+: What are the main challenges in creating sustainable fragrances?
EB: One of the challenges in creating sustainable fragrances is determining the right fragrance with the right claim for each client in order to satisfy their consumer's needs.
Within The Naturality Platform we are answering this through The Naturality Guide, which is our tool to help creative teams navigate product creation. It provides a clear segmentation and understanding of the market, resulting in eco-friendly fragrances that support relevant claims.
It defines new rules of formulations for our partners to make choices to meet the parameters required to develop nature-conscious designs. It also gives our perfumers the information they need to dream up wonderful new scents with maximum respect for nature.
P&F+: How has COVID-19 impacted consumer desire for sustainable products?
EB: The disruption of COVID-19 has created unprecedented behavioral change. Compared to years prior, we see that the pandemic has given consumers a greater sense of purpose, with a focus on overall well-being, including sustainability―they are more family-centric and concerned about the environment and their health, physically and spiritually. As they explore new forces in wellness, they are looking for transparency and efficacy in products that deliver holistic well-being benefits.
This is not something that began during the pandemic, but it has certainly been accelerated. From our own proprietary studies in the United States during COVID, we saw an increase to 64% of fragrance users expressing interest in fragrances made with sustainable ingredients.
P&F+: How has COVID-19 impacted the supply chain and materials sourcing process for ingredients? How, if at all, has this impacted sustainability efforts?
EB: COVID-19 temporarily impacted the sourcing of raw materials due logistical limitations imposed by the pandemic―the biggest was on the materials sourced from India as the first lockdown imposed there in March last year was very severe. It created a series of supply challenges for many in the industry as some materials are only sourced from there. Givaudan activated our mitigation plans and managed to overcome the issue quickly.
P&F+: What technologies are helping to improve sustainability throughout the fragrance creation process?
EB: At Givaudan we have introduced the FiveCarbon Path, our sustainability ambition for molecules. This vision formalizes the use of the latest and emerging scientific disciplines to drive our fragrance molecule developments while delivering on our environmental commitments, plus meeting the future demands of our industry and consumers' expectations around the world.
Every perfume we create is a complex mixture of ingredients, including naturals, which are all based on carbon elements. We are specifically recognizing our responsibility to ensure the sustainability of synthesized ingredients and the wider environment, increasing the use of renewable carbon, increasing carbon efficiency in synthesis, maximizing biodegradable carbon, increasing the 'odor per carbon ratio' with high impact material and using upcycled carbon from side streams.
Another example of our technology is Ambrofix, which is produced using Givaudan's breakthrough biotechnology and is aligned to the FiveCarbon Path. Ambrofix is a single molecule that is created with this new process that delivers identical olfactive qualities as the traditional method, but is much more sustainable.
By using sugar cane instead of clary sage, we are able to use 100 times less land to produce 1 kg vs the traditional method. This gives us a molecule that is readily biodegradable, 100% naturally derived while maintaining 100% renewable carbon.
We are committed to finding the latest technologies and we invest approximately 10% of annual revenue in our science and technology to ensure Givaudan stays at the forefront of sustainable solutions, and the best creations for our clients.