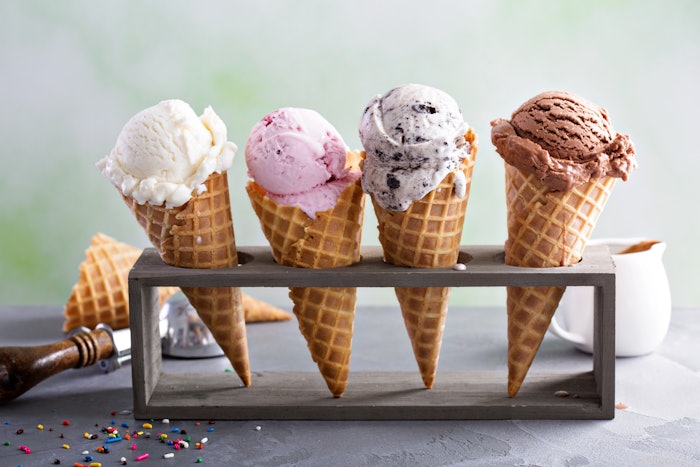 Ready for a sweet surprise? Graeter's Ice Cream is headed back to the Flavorcon stage!
Director of Research and Development John Bloch will be discussing the evolving trends and consumer demands in the ice cream market in terms of flavors and forecasted flavor and comfort food trends. Additionally, he will discuss the challenges associated with creating new flavors and interesting ingredient combinations without sacrificing quality. Bloch will demonstrate the balance of pushing the boundaries on flavor profiles while still being rooted in comfort. 
Meet John Bloch 
John Bloch is the Director of Research and Development at Graeter's Ice Cream, a 153-year-old, 4th generation family-owned and operated business, with 55 scoop shops across 5 states, distribution through national grocers and mail order distribution. 
Before joining Graeter's Ice Cream, Bloch was the Executive Corporate Chef at the one of the world's largest breadcrumb and seasoning companies. He began his education serving in the AmeriCorps*NCCC program, then followed his passion for food and the culinary arts to the Culinary Institute of America. After culinary school, he moved home to Cincinnati and completed his Bachelor of Culinary and Food Science at the University of Cincinnati. After working in a variety of protein, soup, and sauce manufacturers in Texas and Tennessee, he returned to Cincinnati and received his MBA from Xavier University. Bloch continues his passion of food and philanthropy and is actively involved in a variety of non-profits in the Cincinnati region. 
Flavorist Master Class
New to Flavorcon, this first-come first-served pre-Flavorcon session is designed to take attendees on a guided tour through a lineup of organoleptic materials with the help of Bell Flavor & Fragrances principal flavorist, Cyndie Lipka, and independent flavorist and "Flavor Bites" columnist, John Wright. Attendees will be split into two groups, first attending a 45-minute session with one of the flavorists and then swapping to join a 45-minute session with the other. These sessions are a $50 add on to your conference registration.
This event is limited seating so be sure to register ASAP secure your seat, visit www.flavorcon.com.
Register Today
The time has officially come—registration is now open for Flavorcon 2023! Scheduled for November 7-9 in Cincinnati, OH, early bird tickets are now available for attendees.
To give flavorists and product developers the tools they need to succeed in an increasingly complex market, Flavorcon will connect the dots among emerging R&D advances, food and beverage market and flavor trends, and supply chain innovations. The two-day conference will include a series of data/analytics presentations, interactive educational talks and panel discussions featuring some of the industry's leading experts. Attendees will come away inspired with new tools and connections to create flavorful wins and products consumers love.