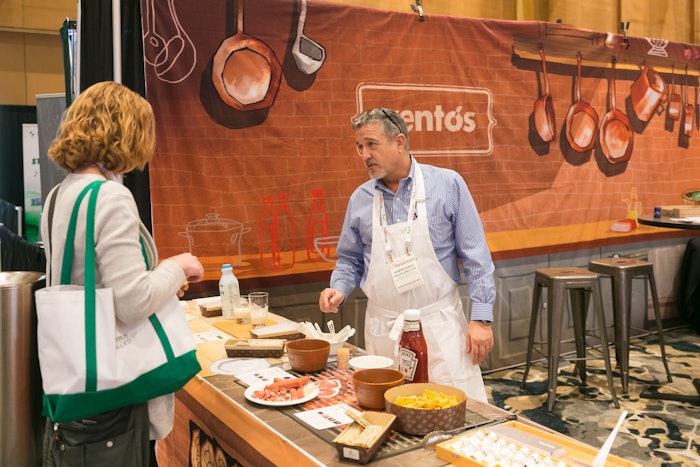 PETER WYNN THOMPSON
Flavorcon 2022 begins tomorrow! Are you ready? Here are some things for you to know before you go, like WiFi information, downloading the Flavorcon app, speaker sessions and expo hall highlights:
Complimentary Wi-Fi is available for your convenience—Network Name: Flavorcon Password: Taste2022
To download the app, scan the QR code, or search "Flavorcon 2022" in the Google Play Store or Apple App Store. Download the app to network with fellow attendees and exhibitors, set up meetings in advance and so much more!
Need to catch up on announced sessions? Discover the lineup of sessions that are set to cover scent and taste research, flavor formulation, biotechnology, functional flavors and more. 
Attendees can get acquainted with the speakers set to take the stage, offering industry gems and expert insight—not to mention samples!
You can also check out the floor plan in the expo hall set to host a slew of exhibitors showcasing the latest ingredients, tech and innovation in the flavor industry. 
>>>Register today for the best rates!<<<
Flavorists! Did you know you receive a special rate for Flavorcon 2022? Designed for flavorists, product developers, R&D leaders, food scientists and consumer packaged goods professionals, Flavorcon was built to support sensory innovations and better-for-you breakthroughs for the flavor, food and beverage markets.
Additional discounts for industry societies include: 
British Society of Flavourists (BSF): As a member of the BSF, you can receive $200 off the full conference registration using code:  FLVR200BSF when you register!
Society of Flavorist (SFC): As a member of the SFC, you can receive $200 off the full conference registration using code: FLVR200SFC when you register!
Women in Flavor and Fragrance Committee (WFFC): As a member of the WFFC, you can receive $200 off the full conference registration using code: FLVR200WFFC when you register!
For any questions regarding your Flavorcon discount, please contact Marissa Esposito (mesposity@allured.com).
How to Register for Flavorcon 2022
Be sure to visit www.flavorcon.com for applicable pricing. Attendees can also get last-minute tickets the day of the event at the door. Don't miss your chance to network with colleagues from around the world and experience the latest innovations the flavor industry has to offer.
Want to know everything going on in flavor & fragrance? Sign up for P&F+'s newsletter. You can also follow along on Instagram and LinkedIn.