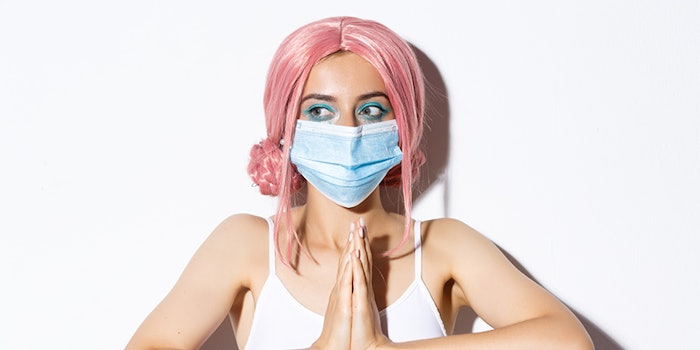 A study done by Asterès for the French Federation of Beauty Companies (FEBEA), addresses how COVID-19 has affected the cosmetic sectors and explains what is to come for the industry.
Related: 8 Beauty Retail Predictions Post-coronavirus
The first half of 2020 took a toll on the French cosmetic industry as a whole, as sales have fallen by 10%. Consumer's focus went from beauty products to hygiene with a 50% increase in hygiene sales while beauty products decreased 25%.
These results are generally in line with many Western markets in 2020.
"Sales of products linked to socialization, make-up, styling products, perfumes, are down, while everyday hygiene products have held up well, including since deconfinement,"  said FEBEA president Patrick O'Quin. 
Cosmetic exports in France have decreased 14% and investments decreased 12% although it was less than the national average of 18% and 16% respectively. America will see the largest record drop in cosmetic exports, with a fall of 10% while China has grown by 3%.   
Areas such as beauty institutes and salons have lost sales by 25% and 23% and even though online sales are set to increase by 38%, its weight remains too low to impact the entire cosmetic sector. Very small enterprises have also suffered with a 54% drop in turnover, against 35% for large companies.
Overall, the cosmetic sector is set to suffer less than the French economy in 2020, having a fall of 9% compared to 11%. The cosmetic sector's turnover would lose 5% compared to 7% for total household consumption. An annual increase would reach 30% for hygiene products, while beauty products would lose 17%.
Related: Editor's Note: Inventing for the 'New Normal'
For the French cosmetic market, the return to pre-pandemic life should occur in 2022 although internationally it could take longer. Focusing on the future, important trends include employment of youth, ecological transition and digitalization. 
The first goal is to recruit 10,000 young people in 2021 across the entire sector. This would increase employment by 9%. 
Investing in ecological transition is also an important trend for the future as well as looking into digitalization. One more robot per cosmetic company could lead to a 3.5% increase in productivity. 
"Cosmetics remains a high-performance sector, which has all the tools to face this crisis and accelerate its changes. But the SMEs in the sector, which create a lot of jobs throughout France, deserve specific support during this period. This will allow the entire industry to mobilize on a massive scale, serving both immediate and long-term challenges," said Patrick O'Quin, president of FEBEA.