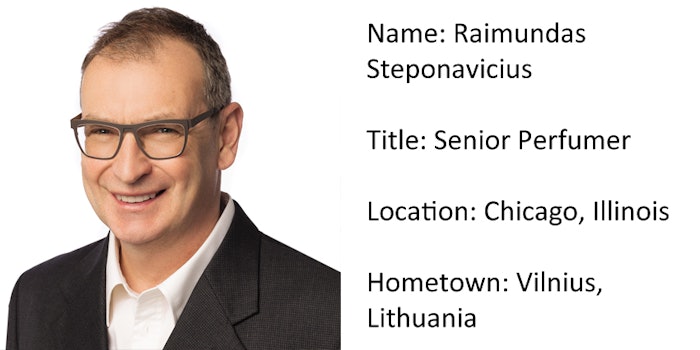 P&F+: What led you to the fragrance industry?
Raimundas Steponavicius [RS]: When I was young, I spent my summers in my grandmother's garden helping her harvest many varieties of herbs and flowers. We would dry them and prepare them for tea. This gave me an introduction to the fragrant and fresh scents we use today. Also, my parents were chemists, so I spent a lot of time in the laboratories which allowed me to learn and understand the ingredients. When I finally had an opportunity to step into a fragrance house for the first time, I was extremely impressed about the mystery of perfumes and got a dream to become a perfumer.
I am also a passionate traveler and I love backpacking in the mountains. There is a perfectly balanced smell of nature which consists of coniferous woods, earth, moss, flowers, leaves and clean, cool air. Additionally, I love sailing, where moist salty wind is mixing with tropical fruits. These travel recollections help in perfumery to create the smells of places like the forest, sea, dunes and mountains.
P&F+: What applications do you primarily formulate for?
RS: I enjoy working in all applications, but I especially like candles because there are less regulatory limitations, so I can be more artistic in my creations. I also enjoy creating fragrances for personal care applications, as many of the fragrances relate back to health and wellness benefits. Consumers want innovate products that also create a sense of wellbeing.
P&F+: Describe yourself in three ingredients.
RS: Cashmeran because it has a beautiful, balanced combination of musk, wood and floral notes. Vanilla absolute because of its sensual notes, and grapefruit oil because it is energizing and uplifting.
P&F+: How has the job of perfumer changed during your career?
RS: The biggest change is that regulatory dictates changes, so we have some limits in what we can create. Also, with materials such as creation replacements, we are able to use new ingredients to make healthier, more sustainable products.
P&F+: What is best part of your job?
RS: The best part is the freedom to create new and innovative scents from various impressions, whether it be based on feelings, inspired from the beauty of nature and colors or even style in various industries. It is my life, my passion. One of the new products Belle Aire Creations has created is our Creative Compounds, which are proprietary formulas that enhance the fragrance experience using art and science to compliment the origin and inspiration of the fragrance. This is an exciting development because we can create unique notes that can be incorporated into many fragrances.