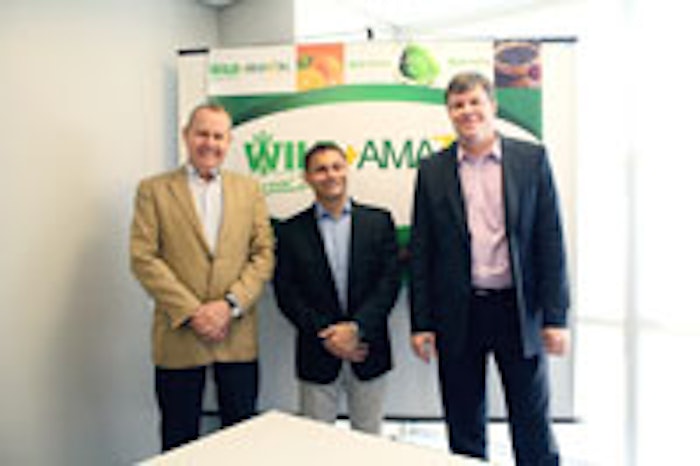 Wild Flavors GmbH (WILD) has become a shareholder in the Brazilian corporation Amazon Flavors, a manufacturer of natural flavors, extracts, emulsions and compounds for Brazil's beverage market.
"Becoming a shareholder in Amazon Flavors is the next logical step in our international expansion strategy in the global food and beverage market and the growth forecast for Brazil is outstanding," said Hans-Peter Wild, Wild's owner. "Wild's relationship with Amazon Flavors puts us in an excellent position to support our customers in this developing market." 
Amazon Flavors, which is headquartered in São Paulo and operates production facilities in Manaus in the state of Amazonas, has a product portfolio that features natural extracts and flavors derived from the guarana plant, açai berries, oranges and grapes as well as cola flavors for the Brazilian beverage market. Wild says these products will expand and support Wild's global leadership position in natural flavors, flavor systems, colors and ingredients in the food and beverage market.
Wild has operated a Brazilian subsidiary with a sales office and development laboratory in São Paulo since 2000. This operation will be merged with Amazon Flavors. Founder and previous Amazon Flavors majority stakeholder Claudio Bruehmueller will remain as the managing director of the expanded business with more than 40 employees.
"The Brazilian food and beverage market has enormous potential," said Cosimo Trimigliozzi, COO of Wild Flavors International GmbH. "More than 190 million people live here. The middle class is constantly growing and consumers are looking for new tastes and products. We can help our customers meet this growing consumer demand." 
Based on current market data published by Canadean, an annual growth rate of 3-4% for the soft drinks market can be anticipated in the medium-term. This includes both newer segments such as energy drinks as well as classic soft drinks. Brazil has become the world's third-largest market in this sector.
As part of its global strategy, Wild announced in May 2013 investments at its production, development and sales locations in India as well as the opening of a new subsidiary in Singapore. In 2012, the company acquired the assets of the former Cargill juice business, which has state-of-the-art manufacturing facilities in Amsterdam, Japan and the U.S. In 2011, Wild acquired the A.M. Todd Group, a global leader in natural mint oils and ingredients with production sites in India and the U.S.