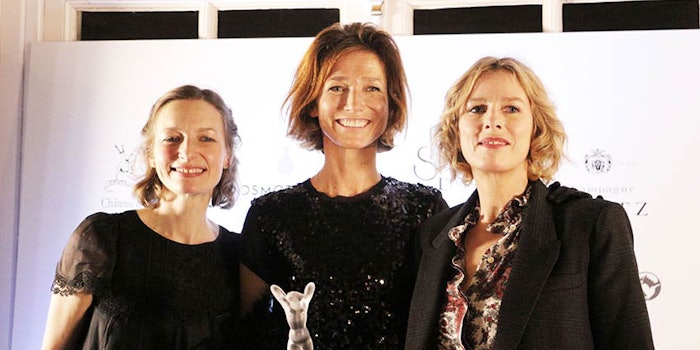 Emilie Copperman, master perfumer with Symrise Paris, was awarded the Prix François Coty.
Copperman took home the Lalique trophy, La Vitesse, recognizing "the extraordinary character of the laureate and her creative work." She has more than 20 years of experience creating perfumes for luxury and niche brands and is particularly passionate about woody scents.
"We congratulate Emilie on the Prize. It emphasizes her outstanding talent as perfumer that is recognized by the industry. She inspires her colleagues with her own creative work and she created many winning fragrances for Symrise, making her a key factor for our fragrance's success," said Ricardo Omori, senior VP global fine fragrance at Symrise.
Related: [video] Symrise, IBM Research Bring AI to Fine Fragrance
François Coty Association president Véronique Coty presented the award during a ceremony held at Château D'Atargny, former home of the founder of the Prix François Coty. The organization is dedicated to highlighting the character of perfumery's nobility and chooses one laureate each year for the Prix François Coty. Perfumers qualify if they have created a fragrance of "certain renown" launched the year prior to the award; a jury selects the honoree based on an anonymous smelling and evaluation of the perfume.
"I feel very honored to receive this highly coveted prize within the perfumery industry," said Copperman. "To me, it comes as a precious token for my creative work as perfumer. It will inspire me to continue my fragrant path for a better living through scent."