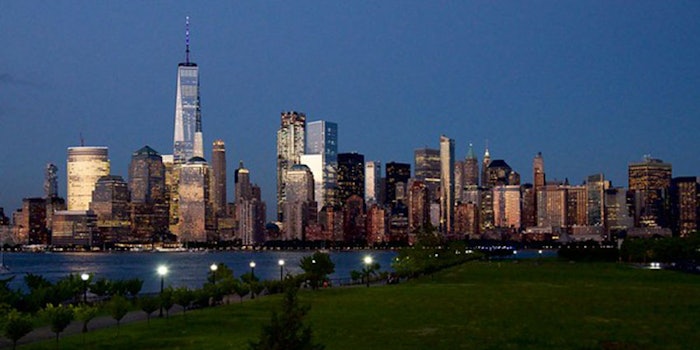 All photos by Dan D'Errico

June 21, 2017, was certainly an evening of gratitude from the honorees of the Women in Flavor and Fragrance Commerce (WFFC) Annual Recognition Awards at the Liberty House Restaurant in Jersey City, New Jersey. Each year, the WFFC board recognizes the taste and scent makers, game changers and innovators in the F&F industry who have shown remarkable and inspiring achievements. This year's awards and honorees were:
Gladys Gabriel, vice president of global procurement, IFF; Nancy Poulos Leadership Award
Cynthia Lipka, senior flavorist, Prinova Group; Flavorist Award
Martha Noyes, senior perfumer, Agilex Fragrances; Perfumer Award
John Wright, contributing flavorist and author for more than 40 years; Innovative Excellence Award
Acknowledging Corporate Partnerships
Also attending the event was the non-profit organization, Roses for Autism (RFA). Attendees were given a bottle of the Ardent Rose perfume, which was launched last year by RFA and its parent company, Ability Beyond. RFA employs individuals living with Autism and provides career training and mentorship to youths. Inspired by the commercial roses grown in the RFA nursery, the highlight of the Ardent Rose perfume is the lavande rose.
Michelle Ouimette, managing director at Ability Beyond and Roses for Autism, spoke to the WFFC on behalf of the two organizations that are dedicated to Autism awareness.
"Dr. Robert Bedoukian is on the board of directors of Ability Beyond, a nationally recognized non-profit organization that is the parent company of Roses for Autism," she said. "A couple of years ago, the idea was hatched on how to create a perfume from our amazingly fragrant, lavande rose. It's this purple rose that is so fragrant."
Ouimette continued, "In a team led by Raman Ansari at Bedoukian Research and working with Donna Ramanauskas and Bonnie Watts of Robertet, we brought this perfume to market. I really think that it's through these corporate partnerships with non-profit organizations, the support of the fragrance industry, that you can have a real profound impact on some of the most challenging problems in society."
 A Simple Twist of Flavor
Judith Michalski, senior flavorist, abelei flavors and contributing columnist for Perfumer & Flavorist, introduced her colleague and dear friend, Cyndie Lipka.
"She has graced our flavor industry for over 20 years. Serving on Chem Sources, from secretary to chairperson of the board, and she's still involved with CSA on their board of directors," said Michalski. "She's also done her tenure with Society of Flavor Chemists where she served as treasurer for two terms up through chair person. She is also a member of IFT, American Chemical Society, a contributing flavor chemical evaluator for P&F, and on top of this, a few years ago, she received the O.F. Standbaugh award from her alma mater, Elizabethtown College."
"… It's been 24 years that I've been involved [in the flavor industry]," Lipka said in her speech, "And at that time I was working for Hershey foods in the ingredient research department … to modernize the process for making chocolate for Hershey."
Lipka was up for a promotion until her expectations turned a different direction when she was told the director of her department was leaving for an accounting role. An interesting twist of fate for Lipka as her departing boss recommended she lead the creative flavor group.
"…It worked out to be the finest thing that's ever happened to me," Lipka recalled. "I had the ability to work with Kent Zeller and at that time I didn't really know him … He taught me everything I needed to know to succeed … Flavor chemistry has turned out to be the perfect field for me. It's a beautiful balance of research and creation and it fills my soul."
"When I think of the attributes that all of these people who have influenced me, I think of passion, involvement and kindness. And if you adhere to those tenants, they will not lead you astray."
Lipka said, "It is an honor and an affirmation of my life's journey … [It] has been both fascinating and wonderful to receive this lifetime achievement award [which] is not only awesome, but it is humbling. Thank you."
Along with thanking the WFFC board of directors and her colleagues, Lipka ended her speech with a few pearls of wisdom: "If this is your passion, then get involved."
It Takes a Village
Three years ago, Martha Noyes joined the creative team at Agilex as an analytical perfumer. Described by her colleagues as a hardworking and ambitious employee, she joined the American Society of Perfumers and was shortly promoted to perfumer. Shortly after her start with Agilex, Noyes pursued her interest in creative perfumery, where she began a string of wins with a diverse group of clients in multiple product categories. Alongside her successful 10-year career with Agilex, Noyes is active internally within the company training young perfumers.
Noyes said, "Thank you, WFFC. It's a great organization with a mission statement for educating and supporting women in our industry. I'm incredibly grateful and deeply honored for receiving this award tonight. This fragrance industry is filled with wonderful, creative, capable and talented perfumers. So the fact that you chose me leaves me deeply humbled.
Noyes began her 23-year career as a lab technician and moved into a senior perfumer role with Agilex last year.
"The job of a perfumer comes with a tall order but the benefits are huge: creating something our customers enjoy and making them happy. And this is why I love my job," Noyes said.
She thanked her whole team, including her bosses at Agilex for allowing her the "creative freedom to do my job and continued support," the dedicated evaluation staff for their "constructive advice that allows me to be successful. I am also listening and learning," and her fellow perfumers who "inspire me and teach me." Finally, Noyes thanked her new husband, R.J., "for being my partner and for always being by my side."
Acknowleding F&F Youth and Talent
Described as a fiery, passionate, professional leader, Gladys Gabriel received the Nancy Poulos Leadership Award. Gabriel served as the chief procurement officer at IFF and has published seven scientific patents. In her current role at IFF, Gabriel is responsible for procurement, internal and external stakeholder processes, optimizing efficiency, reducing risk and maintaining sustainable sourcing.
"Thank you to the WFFC for having us all get together here to enjoy the evening and enjoy our successes," said Gabriel. "I want to thank the WFFC leadership, Amy Marks-McGee and Erica Lermond and the director of the board of trustees and all of the efforts and the dedication to help this industry, to help the youth and young talent."
Gabriel acknowledged her family: her father who was a leader within her community in Lebanon and her mother whose selflessness and courage inspires Gabriel each day.
She led her speech in an allegory of her father whose leadership and compassion for families during a war-stricken Lebanon provided a foundation for her own leadership skills in the F&F industry. Along with providing education for eight children, Gabriel's father believed that educating women was critical so that women could stand alongside their partners to face the challenges of life.
"Be persistent regardless of the challenges. Go for as much as life has to offer. Work with integrity, humility, respect for each other and always fight for what you believe in. And help the young talent in the industry. This is where the WFFC stands out. They offer great mentorship, they have the education and training and networking opportunities. Take advantage of it, it will come in handy," Gabriel concluded.
Innovative Influence
Having written the book on flavor creation, led the global flavor creation division at IFF for seven years and collaborated with the Massachusetts Institute of Technology (MIT) on innovation for NASA, where they call him "God of all Flavors," John Wright was awarded the Innovative Excellence Award.
"Thank you first to the WFFC for honoring me with this award. I think one of the advantages of 50 years in the industry is that you see the changes that have happened."
These changes also include the influx of women who are now in managerial positions at Mondelez.
"So whether whatever the challenges you feel, I think the fact that a company like Mondelez, which is as big as you can get, and is in some ways set in its ways as you could ever possibly get, has changed to that degree, [and] is a big testament to the influence that you have all had and that we've all had generally on the way this industry works."