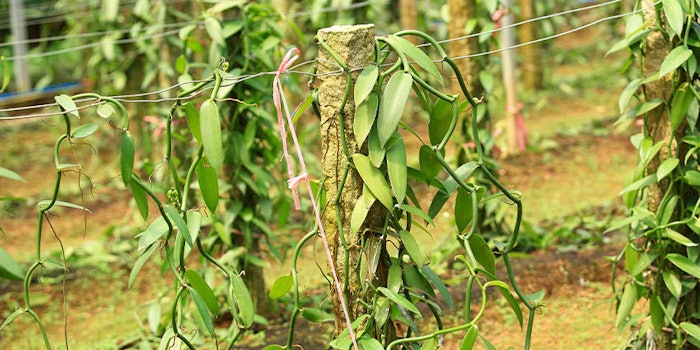 The Estée Lauder Companies (ELC), Aveda and LMR Naturals by IFF, as well as local Madagascar vanilla supplier Biovanilla, global sustainable business partner BSR and Wholechain have partnered together to launch a pilot program to leverage blockchain technology in its Madagascan vanilla supply chain. 
Related: IFF Launches Speed Smelling Collectors Edition: Slow Smelling
Blockchain technology collates data from supply chain partners in real-time via a secure, digital system. The program will bring blockchain-enabled, traceable vanilla to more than 125 Aveda products in spring 2021.
Blockchain is an immutable ledger that enables stakeholders to share data and product attributes at each link in the supply chain. Using mobile phones and QR codes, the pilot's blockchain technology created a tamper-proof record of each vanilla bean's journey.
As to keep with tradition, Fitomboka, a unique stamp used to trace vanilla beans, has now been digitized onto a digital card, and data is captured directly from the farmer co-op in Madagascar using mobile phones and QR code IDs.
ELC and Aveda are among the first beauty companies to launch a successful, commercial blockchain pilot at such scale, furthering its work in the area of responsible sourcing as well as one of the largest scale pilots.
Blockchain technology will contribute to integrating social, ethical and environmental metrics by laying the groundwork to ensure transparency in Aveda's supply chain, providing transparency from the bottle back to the farm.
Barbara De Laere, Aveda global brand president, said, "Aveda has prioritized sustainable sourcing for decades, and we now have the technology to demonstrate this to the consumer. Our products are built on natural ingredients, and the long-term viability of those ingredients and the people cultivating them is vitally important to Aveda. With blockchain, we now have a direct connection to our farmers in Madagascar, providing us, our salon partners and our customers more transparency into our supply chain. This transparency is of utmost importance to us as a brand, and we are proud to give our network visibility to the positive impact that, ultimately, they are having on this local community."
Bertrand de Preville, LMR Naturals by IFF general manager said: "LMR and IFF are proud to leverage our transparent and responsible sourcing principles on vanilla for Aveda and the Estée Lauder Companies, in a country like Madagascar, where this sustainable vanilla supply chain improves the livelihood of hundreds of families."