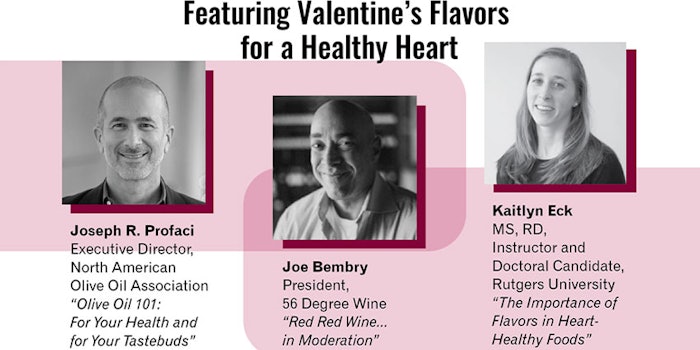 The National Association of Flavors and Food-Ingredient Systems (NAFFS) will be hosting its winter meeting on February 14th, 2020 from 10am until 2pm EST at the Heldrich Hotel in New Brunswick, NJ.
Previously: Implementing Sustainability at NAFFS' 2019 Winter Meeting 
The meeting will feature presentations on Valentine's flavors for a healthy heart. Joseph Profaci, executive director, North American Olive Oil Association, will be delivering "Olive Oil 101: For Your Health and for Your Tastebuds"; Joe Bembry, President, 56 Degree Wine, will be presenting "Red Red Wine… in Moderation"; and Kaitlyn Eck MS, RD, Instructor and Doctoral Candidate, Rutgers University, will be speaking on "The Importance of Flavors in Heart-Healthy Foods."
Registration for this event is $165 for each member, $195 for each non-member, which includes access to all speaker sessions, networking, continental breakfast, lunch buffet and tastings. Those wishing to attend can register for the event through the NAFFS website. Additionally, there are still sponsorship opportunities available for this event, and those interested in sponsorship should contact Erin Jordan at erin@naffs.org.