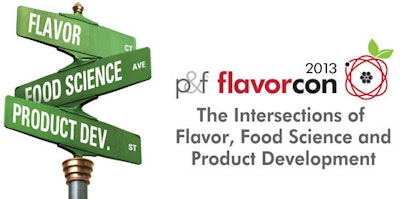 Join the flavor community for two days of in-depth education and networking at P&F's Flavorcon, November 18–19, 2013 in Atlantic City, New Jersey!
Flavorcon unites flavor, food science and product development by delivering technical and marketing information in an intensive, interactive environment and providing practical takeaways for you to share with your teams. Registration is open.
In addition to previously announced speakers and panelists, Flavorcon will feature:
Panel: Biotech and the Flavorist's Palette
Less Common Citrus Profiles
Citrus Greening 
Flavor and Emotion
Flavor Regulations for Flavorists and Product Developers
Panel: Applied Trigeminal Sensory Materials*
Flavor Value

New and Notable Flavor Materials
Flavor Bites: Application of Flavor Materials
*In order to prevent misunderstanding in the marketplace, the title of this session has been changed, removing the word Sensates, which is a trademark of Takasago. Flavorcon apologizes for any confusion the former title may have caused.
To learn more about these session topics and the speakers and panelists, click here.
Flavorcon is pleased to have the support of our partnering organizations: 
Flavorcon's Advisory Board, which is shaping the event content, comprises:
John Wright, Consulting Flavor Chemist and Author
Markus Eckert, Senior Vice President of Innovation, Kerry Ingredients & Flavors
Matthias Guentert, President, Flavor & Nutrition Division, North America, Symrise Inc.
David Bowen, Manager, Citrus Flavor Creation, Global Citrus Centre, Firmenich
Judith Michalski, Senior Flavorist, Bell Flavors & Fragrances
Stay tuned for speaker and session announcements each week in our free weekly newsletter and the Perfumer & Flavorist LinkedIn group.  
We hope to see you there. 
Sincerely,
Jeb Gleason-Allured
Editor in Chief