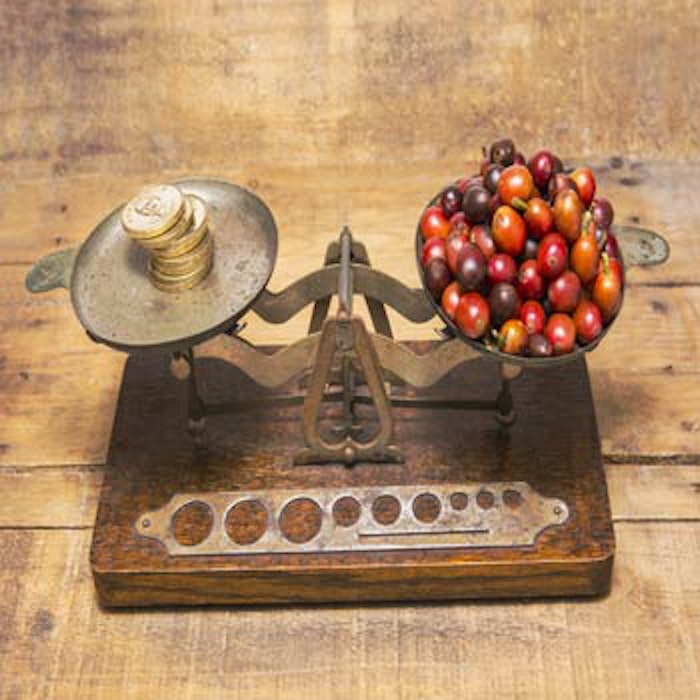 Givaudan SA, in releasing its official 2012 sustainability report, discussed its goals and progress that includes a strong focus on expanding sustainable sourcing for natural ingredients.
Going forward, the ingredients supplier said it plans to communicate with all suppliers about procurement requirements relating to social responsibility, conduct audits with 200 of its top 400 suppliers by 2015, with an aim to have 200 of its top 400 suppliers join its Supplier Ethical Data Exchange (SEDEX) program by 2015. It also plans to identify and develop additional sustainable sourcing initiatives, develop third-party certification projects for raw materials and build 14 schools in Madagascar by 2014.
Operationally, Givaudan's 2020 targets, against a 2009 baseline, are: 25% reduction in CO2 emissions per tonne of production, 20% reduction in energy consumption per tonne of production, 15% reduction in incinerated and landfilled waste per tonne of production, 15% reduction of municipal and ground water usage per tonne of production and a lost time injury rate below 0.1.
In natural ingredients, Givaudan said it has made progress in auditing 63 suppliers and 106 suppliers have joined SEDEX, of which 71 have completed the SEDEX self assessment questionnaire (the company's target is to sign up 200 by 2015). The company began asking suppliers to take part in SEDEX Members Ethical Trade Audits (SMETA) in 2012. These allow the company to monitor and validate supplier performance and are conducted by independent auditors who evaluate suppliers against four pillars: labor standards, health and safety, environment and business practices.
It also has built 11 schools in Madagascar, co-organized an AIM-PROGRESS Responsible Sourcing Forum in Singapore and formed a collaborative approach to secure the quality of the supply and heritage of French lavender (read more about this in P&F's April 2013 issue). 
According to Givaudan, 84.9% of non-raw materials are bought locally and 26.2% of raw materials are sourced locally. To that end, the company said it is expanding its commitment to ethical sourcing of ylang-ylang via its exclusive partnership on the Island of Mohéli in the Comoros, buying agreed quantities directly from the island guarantees the farmers a market. In 2012, it increased its purchases of ylang ylang essential oil produced using traditional techniques.
"The production of ylang-ylang essential oil is a real challenge. Constant monitoring is required, from the picking of the flower to the distillation process. It's also important that firewood is used efficiently so that, in the long term, we can produce the volumes of high-quality essential oil that our creation teams need," said Eric Marinot, Givaudan agronomist.
As a follow up to the company's ongoing partnership with Conservation International (discussed in its 2011 Sustainability Report), Givaudan said the conservation area in the Caura Basin in Venezuela is being expanded from 88,000 hectares protected to 148,000 hectares in the next few years. It said this will benefit four further indigenous communities, who will have access to international fair trade for tonka beans and copaiba balsam. It said the initial community supported through this agreement, the Aripao, built a new warehouse in 2012, enabling them to properly dry and store harvested tonka beans, which Givaudan said improves the quality and allows them to sell at the best possible price.
"By building partnerships that bring real benefits to the community, our economic partners and to the biodiversity of the area, we can ensure that vital conservation activity is both enduring and sustainable in the long term," said Juliette Crepin, natural product engagement manager for Conservation International.
Givaudan is also closely monitoring the availability of traceable palm oil and derivatives, and the commercial feasibility of using it in the future. To that end, it continues to work with suppliers to encourage them to use certified palm oil. "Our ultimate objective is to obtain all of our palm oil derived ingredients from certified traceable sources once they become commercially available," the company said in the report.
In 2012, Givaudan used Green Palm certificates to "Book and Claim" 100% of its palm oil usage and undertook a Green Palm audit. The World Wide Fund for Nature (WWF) considers that there remains a need to offer "Book and Claim," a certificate trading system endorsed by RSPO separate from the physical trade in palm oil, especially for products that use complex derivatives of palm oil. Since the company said it mainly purchases fractions and derivatives of palm oil and palm kernel oil, this system enables Givaudan to buy certificates to support the production of Certified Sustainable Palm Oil.
Aside from that, Givaudan said its ongoing partnership in Laos, from where it sources benzoin, red ginger, cinnamon and beeswax, has been successful. Also in 2012, significant amounts of the vetiver oil the company purchased from Haiti were certified Organic and Fair Trade by ECOCERT, an independent organic and fair trade certification company with the goal of supporting entire supply chains through certification of natural ingredients.
"By guaranteeing a fair price for the farmers' entire vanilla crop and ensuring local farmers follow best practices for curing, we are securing the long-term supply of the highest quality vanilla," said Leen Demeris, global demand and supply manager, natural concentrates for Givaudan. 
Now in its fourth year, Givaudan said its ethical vanilla sourcing program continues to ensure a sustainable and traceable supply of high-quality vanilla beans from Madagascar by supporting Malagasy vanilla farmers. During 2012, the company financed the creation of three new schools, bringing the total number developed through the program to 11; it also supported infrastructure projects including a dam and irrigation construction and the installation of eight wells, providing clean water for more than 5,000 villagers.
In addition, it co-financed locally hired and trained technicians who assist Malagasy communities to become self-sufficient through a System of Rice Intensification (SRI). "They demonstrate best practice in the use of green fertilizers to improve rice yields, and provide agricultural training for both schoolchildren and adults," the company said. 
To view the entire report, click here.