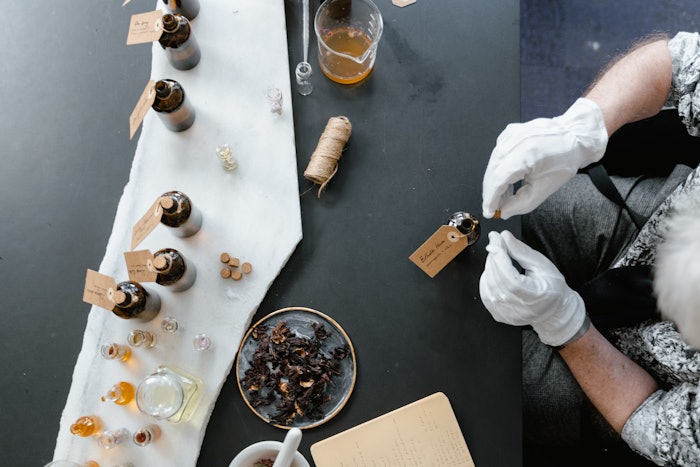 pexels photo by Mart Production
The Middle East fragrances market size was valued at $2,852.9 million in 2019, and is projected to reach $4,414.1 million by 2027, registering a CAGR of 7.4% from 2020 to 2027, according to recent report by Allied Market Research. 
The market is studied on the basis of demographics and country. Depending on demographic, the market is categorized into male, female, and unisex. By country, it is segregated into Kingdom of Saudi Arabia, United Arab Emirates, Jordan, Iraq and Rest of Middle East.
According to the report, the substantial growth in the Middle East fragrances market over the last few years is majorly attributable to the presence of young demography, an upsurge in disposable income, and an improvement in the standard of living. 
Report highlights:
With rise in purchasing power, male consumers in the Middle East have become more conscious of perfume products, which leads to the rapid growth of the fragrances market. 
Over the past couple of years, a significant rise has been witnessed in the demand for different types of luxury cosmetic products, including perfumes.
With rise in internet penetration, the number of social media users has increased considerably. Taking this into consideration, most of the key players in the Middle East fragrances market strategize on promoting their products and services on these social media platforms. This is attributed to the fact that social media marketing is one of the major strategies adopted by various companies and industries to increase awareness about their product offerings among target customers on social media channels. Thus, through social media marketing strategy, the Middle East fragrances market sights a critical opportunity in gaining traction and increasing its customer reach among its target segments.
Rise in beauty-conscious females in Middle East who have been taking extra efforts on enhancing their appearance and maintain their well-being. Furthermore, increase in expenditure on cosmetics augments the growth of the overall market. However, the male segment is expected to exhibit significant CAGR in the near future, owing to rise in interest of men in maintaining their physical appearance. Moreover, of availability of variety of men's fragrances is anticipated to boost the Middle East fragrances market growth.