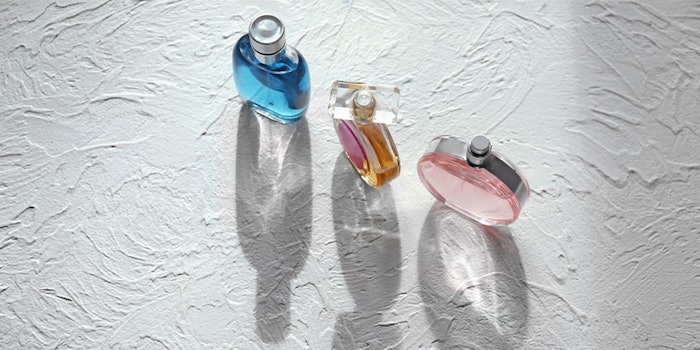 The color and appearance of fine fragrances are critically important to fragrance manufacturers since they impact a consumer's first impression of a perfume and can, therefore, affect product preference.1 Consequently, color measurements under carefully controlled conditions (e.g., colorimetry, spectrophotometry) and standardized terminology (e.g., CIELAB) have gained traction in perfume development and quality control. However, much less attention has been given to color and appearance prediction. Therefore, we introduce an evolving capability that may be of interest to color technologists working with liquids when careful color quality control under different viewing conditions (e.g., laboratory, retail LED lighting) is critical.
The optical properties of fine fragrances, such as color and transparency, play an important role in consumers' perception of product quality; therefore, perfume manufacturers need to understand and control the color of the fragrances they produce. This has resulted in the adoption of colorimeters and spectrophotometers to measure color under carefully controlled conditions using standardized definitions. However, to date, little attention has been given to the prediction of a fragrance's color and its appearance.
In recent years, computer graphics and 3D modeling have evolved rapidly and are used in product visualizations for print and digital advertising, television commercials and movies. With the advent of physically based image render engines it is possible to create photorealistic renditions of objects under defined lighting conditions that simulate real-world conditions.
For the full article, please check out Perfumer & Flavorist's November 2020 issue.
References
Korifi, R., Le Dréau, Y., Antinelli, J.-F., Valls, R., & Dupuy, N. (2013). CIEL*a*b* color space predictive models for colorimetry devices—Analysis of perfume quality. Talanta, 104, 58–66.