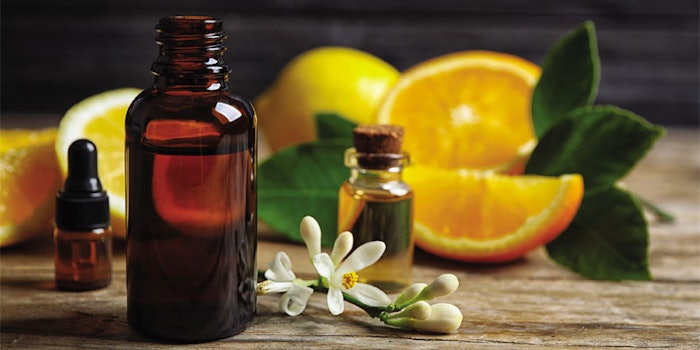 Executive Summary
Considerable literature data are available on the composition of essential oils. However, much of this relates to small-scale experimental trials. For regulation purposes such as REACH (Registration, Evaluation, Authorisation and Restriction of Chemicals), and now U.K. REACH, detailed information on the composition of commercially traded essential oils is required. This paper is part of a series of publications providing compositional data where this information is lacking. GLC (gas-liquid chromatography) fingerprint chromatograms of seven authentic, commercially available essential oils were obtained in a collaborative study using the recommended procedure given in Part XVII of this series and are presented here (this paper represents Part XXIV).1 The samples examined were oils of chamomile English (also known as chamomile Roman), bergamot FCF (furocoumarin-free), clary sage, spike lavender, neroli and two oils of petitgrain, bigarade and Paraguay. These were selected in consultation with the U.K. essential oil trade through the BEOA (British Essential Oil Association). The results obtained show a fingerprint gas chromatogram and a corresponding table of the composition for each oil and will enable the correct regulatory assessments to be made.
This paper is set to run in a three-part series in consecutive issues exploring six other esters including bergamot, clary sage, spike lavender, neroli, petitgrain bigarade and petitgrain Paraguay.
You can find Part 1 here and Part 2 here.
Bitter Orange
The bitter orange tree, Citrus aurantium L., syn. C. amara Link, syn. C. bigaradia Loisel, syn. C. vulgaris Risso, is part of the Rutaceae family and grows notably in Spain and North Africa. Besides the fruit's traditional use in marmalade, its various plant parts are extracted in many ways to produce a large range of ingredients, such as expressed bitter orange oil, terpeneless oil and oleoresin from the fruit pericarp, five different extracts of the orange blossom and five different extracts from the leaves. Neroli oil is steam distilled from the flowers (blossom) and, as the water from this distillation has flavor, it is used as such in prepared foods and can also be solvent extracted to make an ingredient known as orange flower water absolute.
The oil steam distilled from the leaves is called petitgrain bigarade oil. A similar leaf oil of not-so-fine-odor quality is made in South America and known as petitgrain Paraguay oil.
All of these oils are widely used in the manufacturing of perfumery products, but neroli oil is substantially more expensive due to its lower yield.
References
Analytical Methods Committee (1997). Application of Gas–Liquid Chromatography to the Analysis of Essential Oils Part XVII. Fingerprinting of Essential Oils by Temperature-programmed Gas–Liquid Chromatography Using Capillary Columns With Non-polar Stationary Phases. The Analyst, 122(10), 1167-1174.
Download the complete PDF here.
For the full article, please check out the Perfumer & Flavorist+ October 2021 issue.