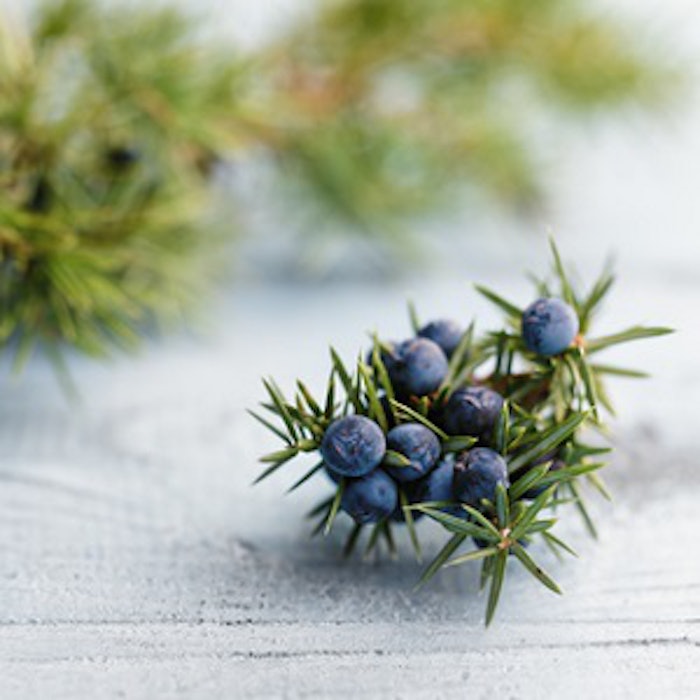 Upon inhalation, the oil both cleared my lungs and mind and went straight to my heart. Trained as a clinical aromatherapist with a passion for natural perfumery, it was the type of experience that alters one — enough so, to lead me to the hills of Taos where I visited the distiller and the lands of this most unique member of the cypress family. There I observed Alfred pour one of the most gracious juniper essential oils, in physical demeanor, I had ever seen — a pale blue liquid silk. The aromatic waters were so dense and complex, they were befi tting the holiest of sacred shrines, while the concrete could have rivaled a beautiful immortelle, with under-lacings of honey, hay, coffee, leather and a tad of fruitiness.
Alfred has been a distiller for seven years, and possesses a drive to produce essence materials that are not generally available in the marketplace. He was not drawn to be a commercial producer, but rather walked the path of an artisan, with a desire to produce eloquent distillations of essential oil from unique plant species. Today, along with the Rocky Mountain juniper, he wild crafts and successfully distills the native plants of white sage (Salvia alpina), desert sage (Artemisia tridentata) and smaller vintage botanical batches. He is in constant discovery of the environmental and growing needs of each plant, while seeking to perfect his techniques and apparatus. With his 1,000 L stainless still, he uses a live steam process to capture the fullest aromatic material possible without the use of solvents.
In my talks with Alfred, I discovered that Rocky Mountain juniper is a plant whose domain has spread rapidly, due to the last 40 years being the wettest in New Mexico allowing the evergreen to thrive. This abundance has enabled the plant to become a sustainable aromatic, which is quite impressive in a time of harsh environmental impact, particularly with forestry products being used for the aroma trade marketplace. In the industry where I have made my career for nearly two decades, the oil of an aromatic plant is often referenced aesthetically as its soul. In the case of Rocky Mountain juniper, this indeed has been my experience. Through inhaling the aroma alone, it stepped beyond the parameters of what one would expect to experience from the generally accepted emotional associations of a juniper oil. I would come to discover it to be particularly benefi cial for clients with complaints of the aftermath of acute stress, such as exhaustion and mind confusion, anxiety, nervousness, emotional imbalance, mild vertigo and eurythmea. Overall , I was searching for a better understanding of this beautiful oil, its potential in therapy, but more importantly, it's potential to the world of perfumery.