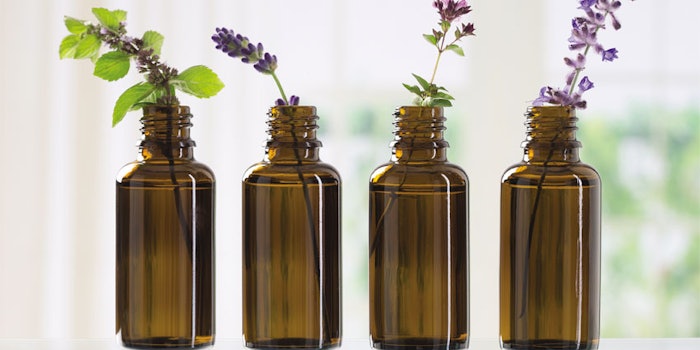 Gas-Liquid Chromatography (GLC) fingerprint chromatograms of seven authentic essential oils were obtained in a collaborative study using the recommended procedure given in Part XVII of this series and are presented here (this paper represents Part XXIV, the cedarwood oils were Part XXIII).1,2 The samples examined were chamomile English (also known as chamomile Roman), bergamot FCF (furocoumarin-free), clary sage, spike lavender, neroli and two oils of petitgrain, bigarade and Paraguay. These were selected in consultation with the UK essential oil trade through the BEOA (British Essential Oil Association). The expert working group gratefully acknowledges the staff time and samples of essential oils provided by the companies involved in this study.
This paper is set to run in a three-part series in consecutive issues exploring six other esters including bergamot, clary sage, spike lavender, neroli, petitgrain bigarade and petitgrain Paraguay. You can find the entire study online at perfumerflavorist.com.
Experimental
These NCS (natural complex substances) were subjected to GLC analysis in one long auto-sampler run over a weekend, starting and finishing with an NC (Standard GLC Fingerprinting Calibration Mixture) polarity calibration mix (aliphatic hydrocarbon-based), as described in the RSC (Royal Society of Chemistry) fingerprinting paper in The Analyst.1 The assumption was made that if the calibration was the same at the start and finish of the run, all of the samples in between were correctly run.
Basic chromatographic conditions used by the group were a 25-60 meter length columns of about 0.25 mm diameter and 0.25-micron film thickness of a non-polar stationary phase. Temperature program used was 50-240oC at 4oC/minute and no initial hold time. Any inert carrier gas phase was used and flame ionization detection with supporting data provided by the use of a polarity calibrated wax phase column and mass spectrometry. The injected sample size and dilution was in accordance with individual laboratories' instrumentation. This is the detailed level of GLC conditions that is also listed in the NIST (National Institute of Science and Technology) WebBook of retention indices.3
This method has since been used by the ISO TC (International Standards Organization Technical Committee) 54 and used in this series of RSC publications.
References
Analytical Methods Committee (1997). Application of Gas–Liquid Chromatography to the Analysis of Essential Oils Part XVII. Fingerprinting of Essential Oils by Temperature-programmed Gas–Liquid Chromatography Using Capillary Columns With Non-polar Stationary Phases. The Analyst, 122(10), 1167-1174.
Analytical Methods Committee (2019), Application of Gas–Liquid Chromatography to the Analysis of Essential Oils Part XXIII. Fingerprint GLC of selected Texas, Virginia, China, Atlas and Himalaya cedarwood oils intended for REACH registration Perfumer & Flavorist, 44, November 31-42
NIST Office of Data and Informatics. (2017). NIST Chemistry WebBook, SRD 69. Retrieved from https://webbook.nist.gov/chemistry
 Download the complete PDF here.
For the full article, please check out the Perfumer & Flavorist+ August 2021 issue.