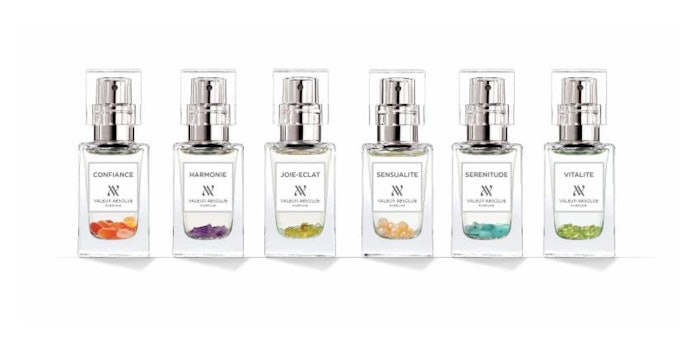 Valeur Absolue has announced the expansion of its fragrance wellness brand in the United States.
Founded by Bénédicte Foucart, the fragrance brand aims to reinvent the morning perfuming ritual with its two core fragrance lines, Essentielles and Classiques, and its home and body collections. 
Created with natural ingredients and infused with semi-precious stones, the Essentielles collection features three perfumes that are Ecocert Cosmos Certified Organic. The line of fragrances currently features Harmonie (a woody scent with amethysts), Joie (a warm citrus scent with citrine stones) and Sensualité (a floral scent with a rose quartz stone).
Inspired by emotions, the brands also offers its Classiques line, which features: 
Confiance – a fruity woody oriental scent with notes of spices, vanilla and patchouli and infused with carnelian.
Sérénitude – a woody floral scent with notes of sandalwood and patchouli, infused with amazonites.
Vitalité – a peridot-infused citrus floral scent with notes of blackcurrant and vetiver.
Rouge Passion – a woody floriental scent with notes of champaka, ylang ylang and patchouli and infused with garnets.
Joie – a floral citrus woody scent with notes of grapefruit, tuberose and vetiver, which is infused with citrine stones
Harmonie – a floral musky amber with neroli, bergamot and vanilla that is infused with amethyst stones.
Sensualité – a musky woody floral scent with rose, jasmine and blond woods that is infused with pearls.
"With the United States wellness industry increasing faster than ever, it was the ideal time to expand and be on the forefront of this growing market," said Foucart.