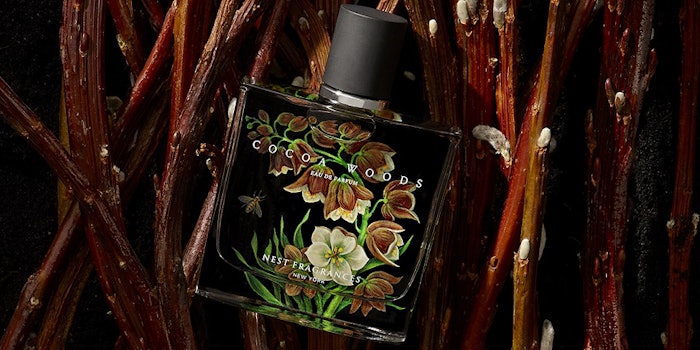 NEST Fragrances has introduced its latest eau de parfum in its fine fragrance collection, Cocoa Woods.
"Cocoa Woods is an empowering fragrance which embodies the values and principles that have guided me throughout my life," said Laura Slatkin, founder and executive chairman of NEST Fragrances. "Cocoa Woods is very warm and passionate on the inside, yet very strong and resilient on the outside."
Inspired by her personal experiences, Cocoa Woods is a woody-gourmand scent that blends bittersweet cocoa, sequoia wood and white sandalwood with hints of tiaré blossom and Thai ginger. Additionally, the fragrance is released at a time where Slatkin is celebrating 25 years in the fragrance industry and 10 years with the NEST brand.
"Fifteen years ago, I learned I would face the challenge of raising my son who is deeply affected by autism. My answer to his diagnosis was to start a foundation called NEXT for Autism," said Slatkin. "At the same time, I started NEST Fragrances, which has grown tremendously over the past 10 years. All of this took strength and a fearless approach to the unknown, a willingness to forge new territories and to do things I did not know how to do. But, when I successfully overcame each challenge and obstacle, it was very gratifying, and I felt empowered. That is the mood I wanted to create with Cocoa Woods."