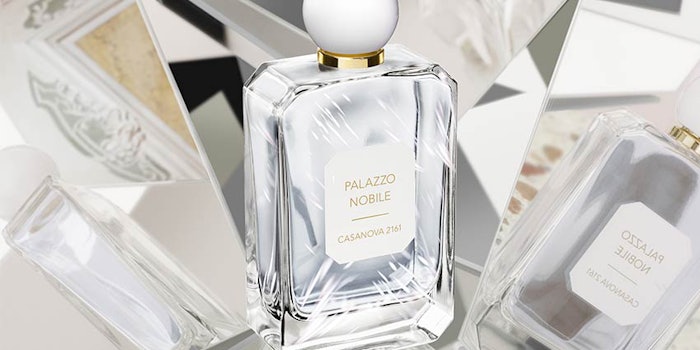 Valmont has announced the launch of Palazzo Nobile and Collezione Privata, two new fragrance collections added to the make up of Valmont Group's Storie Veneziane fragrance pillar.
Inspired by Venice, the two collections have distinctive compositions, designs and ingredients, adding gradual intensity to the Storie Veneziane fragrance line.
With over 32 years of experience in the fragrance industry, Sophie Guillon, CEO of the Valmont Group, carefully edited each fragrance to open a new page in Valmont's Venetian fragrance story.
Related: Valmont Partners With The Spa at The Setai
With six eau de toilettes of ethereal delicacy, the Palazzo Nobile collection is inspired by the emotion of memories. These shared fragrances are light and energizing offering timeless and classic compositions. These fragrances retail at $180 for a 100ml bottle.
Inspired by the texture of fabrics and different women from around the world, Collezione Privata interprets femininity with strength and charm. Comprised of three eau de parfums, these sensual fragrances feature spicy top notes complimenting a woman's magnetic seduction. These fragrances retail at $290 for a 100ml bottle.
The collections will be available in March 2020 online at lamaisonvalmont.com and saksfifthavenue.com, as well as at Spa Valmont, Hôtel Plaza Athénée in New York and The Setai, Miami Beach Spa in Florida.