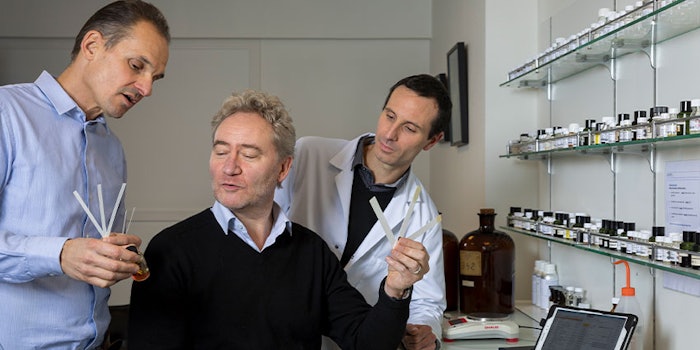 With the epic rise of the eco-conscious, sustainability-driven consumer, naturals are hurtling forward in both appeal and usage. Yet, since the turn away from fantasy notes at the end of the 1990s, coupled with a drive towards naturalism in scent architecture, innovation with naturals has focused more on the efficiency and ethics of how they are sourced, as well as expanding the extraction palette. As such, naturals sourcing remains a quest for the purest, as well as the most socially sound, products possible.
Rémi Pulvérail is doing things differently. His experience—most recently as global head of natural specialties & ethical sourcing at Givaudan—combined with his buoyant enthusiasm for quality perfumery has led him to the creation of his own studio: L'Atelier Français Des Matières. Located on the French side of the Swiss border, his lab offers creation services focused on bespoke fragrance production for luxury brands that want to make use of his growing portfolio of proprietary oils, unique for their pre-cultivation agronomy, hand-picked terroir and post-harvest green chemistry. There are many reasons why his work is exciting and represents ingenuity for the industry, but one can't help but be captivated by the new, entirely natural, olfactory profiles that the lab is able to achieve via a combination of expert smallholder agriculture and experimental small-batch distillation.
Without doubt, L'Atelier Français Des Matières is at the forefront of a new breed of independently owned, niche formulation and sourcing houses that may one day challenge the business model of industry giants. This interview addresses the what and why of L'Atelier Français Des Matières' work.