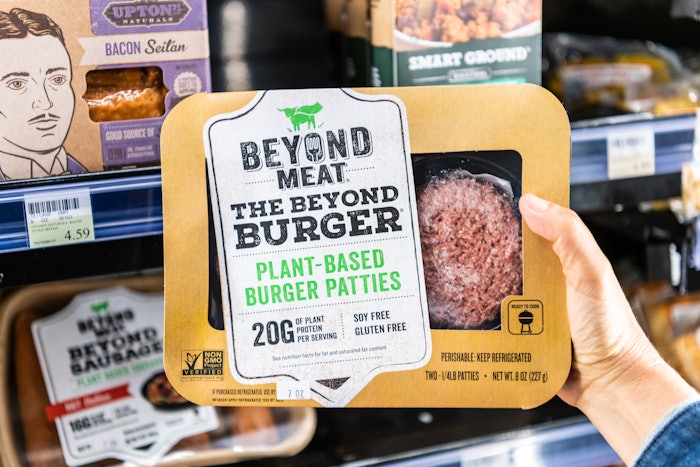 Research from FoodThink found that two-thirds of U.S. consumers who identify as flexitarians and nearly three-fourths of consumers who follow a non-animal protein diet consider themselves foodies.
Related: Report: Global Vegan Chocolate Confectionery Market Value
Highlights of the report include:
More than half of flexitarians (54%) greatly enjoy trying different types of foods (compared to 43% of vegetarians and 34% of animal protein consumers).
Flexitarians (57%) and vegetarians (63%) are more trusting of the food industry than animal protein consumers (36%).
Flexitarians (64%) and vegetarians (63%) research more recipes and new products compared to two years ago and compared to the animal protein group.

Flexitarians (70%) and vegans/vegetarians (74%) are trying to eat healthier than they were two years ago, compared to only 34% of the animal protein group.
People identifying as non-white are 60% more likely to identify as flexitarian.
Samantha Scantlebury, brand strategy director at Signal Theory, said, "Flexitarians are a dynamic group with constantly shifting tastes. Flexitarians might order a cheeseburger for lunch and make vegan Moroccan lettuce wraps for dinner. They are thrilled by the idea of trying something new. Regardless, flexitarians and those who don't consume animal protein are hungry for information and innovation. Brands that challenge the status quo are more appealing."
Scantlebury added, "Our research consistently reveals that consumers continually turn to food companies and grocers for information as their interest in learning more about the food they eat continues to increase. This is good news for food marketers as consumers are looking for even more transparency in the food industry. The industry is more transparent than ever, but there is still plenty of room to grow."
Want to know everything going on in flavor & fragrance? Sign up for P&F+'s newsletter. You can also follow along on Instagram and LinkedIn.