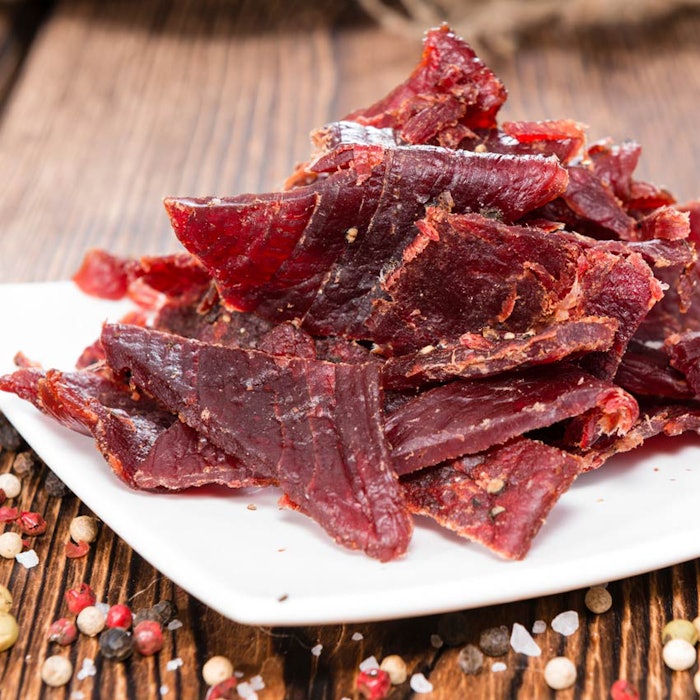 With consumer initiatives to implement more greens and grains in their lives through Meatless Monday dinners and juice cleanses, it's no surprise that the meat snacking category has slowed down to a grazing pace.
But this means an opportunity for companies to get creative with new flavor formulations. Earlier this week, Blue Marble BioMaterials introduced its vegan-friendly bacon flavor, bacon dithiazine. This could very well be the beginning of a plant-based meat flavor movement, as ironic as that sounds. Or it could be an opportunity for the meat snacking category to evolve into gourmet and healthier products with transparent labeling.
Where's the meat?
According to Food Business News, dried meat snacks are a billion dollar category; however prices have base-lined, which may be related to lower beef prices. Beef flavor rules the roost over turkey, chicken and pork. Yet, industry is turning away from standard flavors and exploring more exotic pastures: venison, bison, buffalo, lamb, elk, kangaroo, boar, duck, pheasant and ostrich.
These flavors are certainly a smaller growth category, however they offer the chance for companies to create innovative flavors for meat bars and jerky.
Artisan-style options are growing in demand from consumers who are looking for gourmet or small-batch protein. Transparency in packaging that include simple and fresh ingredients may reach a more niche market, but it still offers an opportunity for the meat snacking category to evolve and grow.