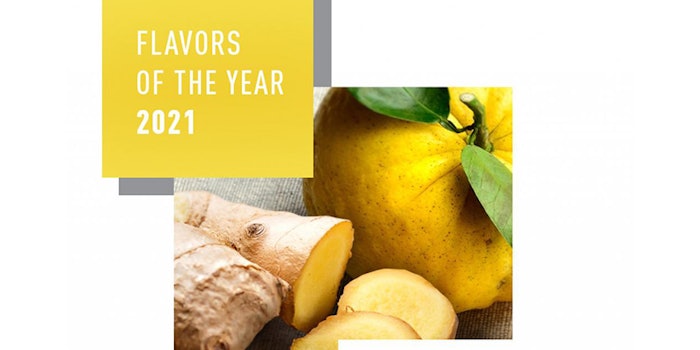 Firmenich has announced its ninth consecutive Flavors of the Year for 2021, which are ginger and yuzu. The Flavors of the Year are selected to compliment the Pantone Colors of the Year, which are Ultimate Grey and Illuminating for 2021. 
Previously: Firmenich Identifies 5 Fragrance Trends to Improve Wellbeing
Ginger, a super-root, has a distinct in aroma and taste, its most prominent flavor notes include warm, spicy woodiness combined with herbaceous sweetness. These more prominent notes are balanced by a light lemony-citrus zest which is grounded in a unique earthiness.
Yuzu fruit is simultaneously sweet, floral and tart. Yuzu's fragrant peel is dominated by floral, green, balsamic and thyme notes, while its juice is delicate, with more prominent floral characteristics which are offset by slightly earthier coconut and woody green notes. Yuzu's citrus oil is gently extracted from the peel to create all-natural yuzu flavors.
Previously: Firmenich Joins Swiss Food & Nutrition Valley
Mikel Cirkus, global creative director, foresight and trenz, Firmenich said, "Like Pantone Color of the Year, the decision to select our Flavors of the Year was based on emerging consumer signals. Both ginger and yuzu have really gained global, cross-category momentum over the last two years and each of them, in their own right, is symbolic of the consumer's desire for a sense of normalcy and healing."
Emmanuel Butstraen, president, taste and beyond said, "It was important that this year's selection comprise wonderful, unique flavors, but also clearly reflect the real consumer shift we've seen. Our Firmenich Human Insights COVID surveys have revealed that people are looking for more than just great taste from their food and beverages during these times; they're placing new-found importance on nutrition and well-being. This inspired us to choose two exciting flavors which can enhance both."