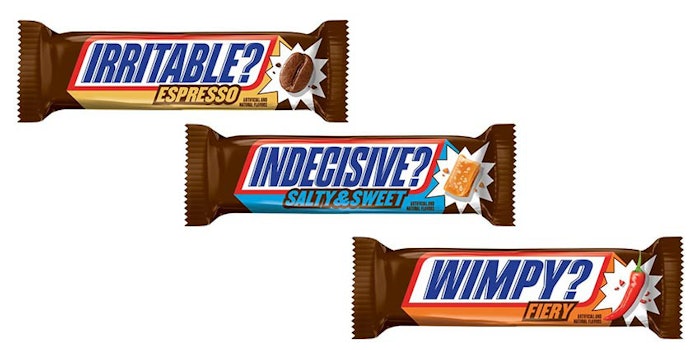 Snickers has released three new limited-edition flavors: espresso, fiery and salty and sweet.
Each bar pairs peanuts and milk chocolate-covered caramel with a flavorful twist—espresso, chili pepper or salt-infused—and packaging which features its corresponding hunger symptom: irritable (espresso), wimpy (fiery) and indecisive (salty and sweet).
The celebrate the launch, the brand will host a pop-up Tuesday, June 19, 2018, in New York City. It will feature 'escape room-style' challenges based on each flavor with challenges set in a bunker-inspired room, with guests figuring out which flavor they'll need to survive the hunger. At the end of the simulation, they will receive a "Flavor Diagnosis."
"Our fans have adventurous tastes and are craving new flavors, and experiences, from Snickers," said Michael Italia, senior brand manager, Snickers Brand. "The new Snickers Intense Flavors are designed to solve everyone's irritable, wimpy and indecisive hunger symptoms with correlating flavors: espresso, fiery and salty and sweet. We feel the Snickers Hunger Bunker is a unique way to highlight the intensity of our new flavors and give our fans a satisfying experience."