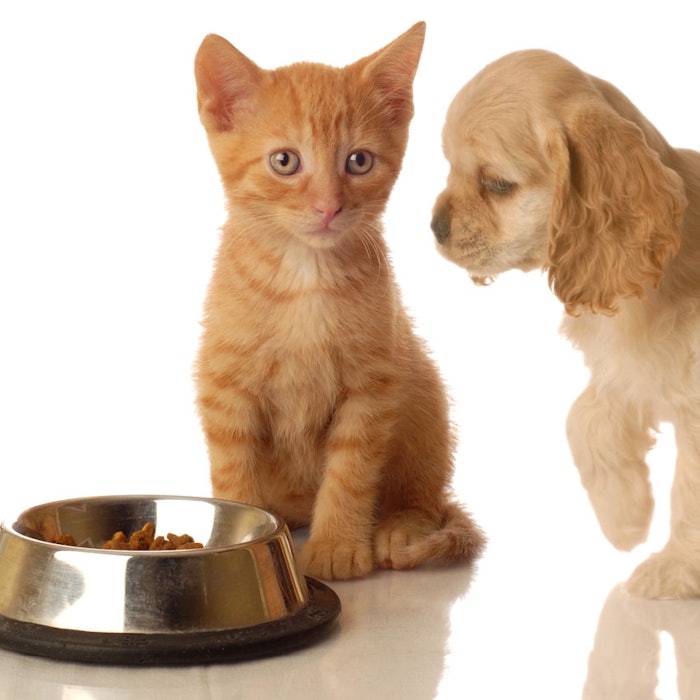 According to Pet Secure's guide to worldwide pet ownership, nearly 70 million dogs are the pet of choice in the United States. This compares with more than 74 million pet cats. In Brazil, however, the pet of choice is the bird, at a whopping 191 million. This is followed by a far second-place 13 million bird lovers in China.
That's a lot of mouths to feed, and according to the same source, Americans spend a total $50 billion in total annually on their fuzzy family members. What does this have to do with F&F? Think: Pet food flavor and nutrition additives.
According to a new patent application, pet foods, particularly cat and dog foods, are commercially available in wet, dry or semi-dry form, in various sizes and types of packaging. Food products designed for dogs, cats or other household pets are commonly made from meat, meat by-products, fish, fish by-products, cereals and grains and may also include vitamins and minerals. Typically such products are nutritious but may not be highly savory or palatable.
While various processes and compositions for enhancing the palatability of pet foods have been described, those skilled in the art recognize the need for improved methods and compositions. Various methods and compositions are known for enhancing the palatability of pet foods by the addition flavorants or palatability enhancing compounds; this application delves into added nutrition and health benefits.
Pet food additive
U.S. Patent Application 20160213027
Publication date: July 28, 2016
Inventors: G. Maniatakos
This invention relates to a system and compositions for pet food products having improved palatability and nutrition, and to a system for selectively providing varied flavor in a pet food diet. It is a further object of this invention to provide a process and composition that can be conveniently applied to a base pet food at home, without the need for elaborate or complex processing equipment.
The disclosed flavoring system is based on a non-aqueous liquid flavor additive composition that may be topically applied to a dry or moistened pet food that already has one or more pet food flavorants. The composition comprises 80%-97% oil, by mass, selected from the group consisting of safflower oil, soybean oil, olive oil, flaxseed oil, cottonseed oil, corn oil, canola oil and sunflower oil and combinations thereof. The invention also may include cannabidiol oil and/or fish oil and/or rosemary oil and/or hydrogen peroxide. Flavorants include but are not limited to bacon flavor, desiccated liver and combinations thereof.