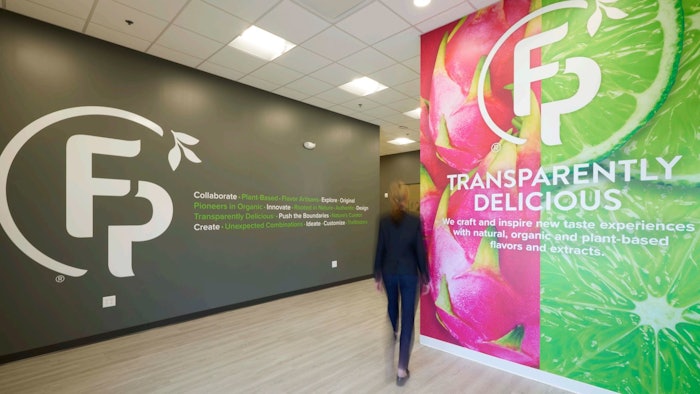 C/O Flavor Producers
Flavor Producers, LLC, headquartered in Valencia, CA, has completed an expansion project in Sharonville, OH, that includes adding more than 6,000 square feet of new application development, sensory, pilot plant product development capabilities, and an additional 1,700 square feet for customer collaborative prototyping workspace for food and beverage innovations.
Related: Flavor Producers to Highlight Flavor & Extract Innovations at Natural Products Expo
The latest flavor innovation includes spiritless technologies with a new flavor and extracts toolbox that incorporates authentic grain flavors of traditional spirits while adding more layers of complexity to sensory characteristics.
Tony Moore, chief innovation officer, said, "This is a very exciting achievement in our company growth journey. Our Flavor Creation, Application and Sensory Teams have needed more space to execute on our extensive customer joint development opportunities as well as additional equipment to accelerate our newest technologies including advances in cleaner label plant-based carriers for natural and organic powdered flavors using Oatz, created from oat fiber, and Peelz, which includes upcycled citrus peels while discovering and introducing new technical advancements in taste for spiritless beverages targeted for wellness and younger consumers."
Michael O'Neill, chief executive officer at Flavor Producers, said, "Flavor Producers has expanded our customer innovation capabilities. We have invested in the expansion of our application research footprint in Ohio by creating a dedicated Innovation Center that includes additional application development capabilities for bakery, confection, plant-based dairy alternative beverages/frozen desserts, alcoholic and non-alcoholic beverage products along with scale-up capabilities and a new sensory testing center to support our ongoing customer demand to deliver clean label taste systems in food and beverages."
Moore adds, "our extensive understanding and success with formulating natural and organic flavors for alcoholic beverages over many years has served us well to create a more authentic experience for the customer and elevate the category for the consumers who are looking for a spiritless, alcohol-free, beverage that requires a slow sip and an unexpected maturity in profile. We have studied the tools and added new technologies to identify more authentic taste options for our customers, he adds, which have thrilled even the skeptics."
Want to know everything going on in flavor & fragrance? Sign up for P&F+'s newsletter. You can also follow along on Instagram and LinkedIn.