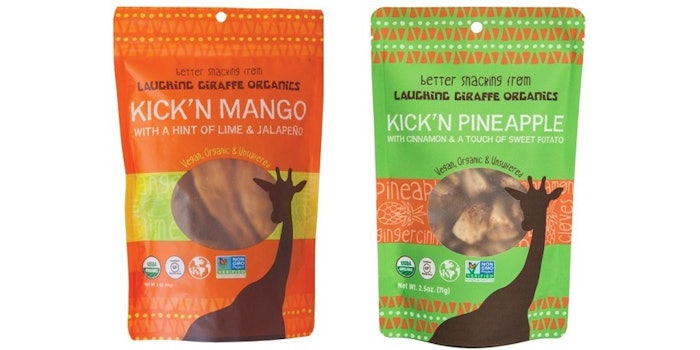 Laughing Giraffe Organics has announced the debut of its Kick'n spiced dried fruit snack line.
Since 2006, Laughing Giraffe Organics has been creating plant-based, organic snacks with unique flavor pairings. At launch, the Kick'n dried fruit snack will be available in two flavors – Kick'n Mango and Kick'n Pineapple. The Kick'n Mango will include hints of lime and jalapeño flavors, where the Kick'n Pineapple will feature sweet potato and cinnamon flavors. All of Laughing Giraffe Organics snacks are also created to be gluten-free, kosher, certified non-GMO and made with raw and vegan ingredients.
"We were inspired by global flavors and wanted to infuse some of our favorite combinations into our Kick'n dried fruits," said Chelsea Marshall, Laughing Giraffe Organics CEO. "Living in LA, I used to buy 'street fruit,' a Mexican tradition of fresh-cut fruit drizzled with lime juice and chili powder, which is what we created Kick'n Mango after. The Kick'n Pineapple is a take on 'Chicha de Piña,' the popular spiced drink from Ecuador that is traditionally made with allspice, cloves and anise."