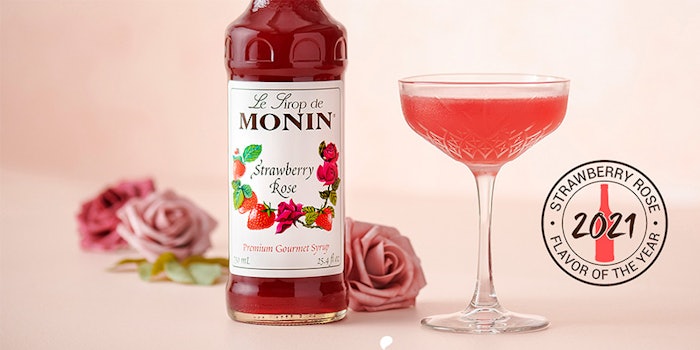 Monin has unveiled that Strawberry Rose will be its 2021 Flavor of the Year.
Related: Chubby Snacks Announces Launch of New Flavors
Monin Strawberry Rose Syrup adds a scarlet hue while delivering notes of candied strawberry and soft rose. It has a clean label and is free from artificial flavors, colors, preservatives and sweeteners. 
The syrup can be used in lattes, teas, cocktails, lemonades, sparkling waters, dressings, desserts and more.
According to Monin proprietary research, one in three consumers intend to purchase a Strawberry Rose flavored beverage, and more than 50% of consumers surveyed would try a fruit and floral flavored beverage.
Bill Lombardo, CEO of Monin Americas said, "As the pandemic continues to impact the nation, consumers are still gravitating toward familiar and comforting flavors; however, they are also looking for something unique that can offer them a brief escape from reality. Strawberry is a mainstream flavor that many enjoy. Blending a floral flavor such as rose with the popular fruit makes for an ideal and on-trend new offering for our customers."
Stasha Johnston, senior vice-president of marketing said, "We wanted to choose flavors that signified positivity and growth as we kick-off 2021. And, what better way to do that than with a fruit floral blend that is often emblematic of those very things? Additionally, as our hospitality partners continue to simplify their operations, we looked to deliver a product that would ease execution while providing an innovative and unique flavor."