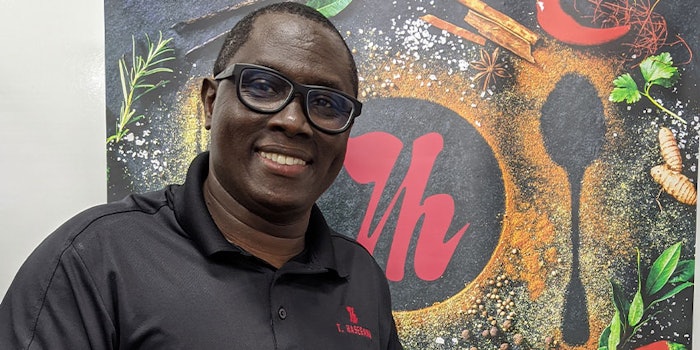 Name: Ibrahima Faye
Location: Cerritos, California
Hometown: Dakar, Senegal, West Africa
Perfumer & Flavorist [P&F]: What led you to the flavor industry?
Ibrahima Faye [IF]: I moved to the United States in 1998 from Senegal with minimal ability to speak English after I had achieved a Ph.D. in pharmacy from the Université Cheikh Anta Diop de Dakar. I discovered that, due to legislative restrictions in the United States, I would need to continue educating myself in order to utilize my degree in pharmacy.
Despite a lack of knowledge of English at the time, I stumbled upon the flavor industry through an employment agency. There was a two-week contractual assignment available at Degussa Flavors. During the interview, I was asked if I was familiar with the flavor industry, to which I replied, "no," and they responded, "that's okay, you will enjoy it because when you walk into the building, it will smell amazing," and they weren't lying.
I started in beverage applications in February of that year and by June was promoted into a compounding technician role working up into the flavor chemist training program. During this full-time employment, I felt the need to continue evolving myself in the world of chemistry, so I went back to school where I acquired an associate's degree in chemical technology from Cincinnati State Technical College, which I followed up with a Bachelor of Science in chemistry from the University of Cincinnati.
Degussa Flavors was acquired by Cargill, where I became a certified flavor chemist and then subsequently, the flavor division was divested to Kerry Ingredients. After my time at Kerry, I moved on to FONA International and then to Doehler, where my career path continued from senior flavor chemist to director of R&D, flavor division. Now at T. Hasegawa USA, Inc., I am a certified senior flavor chemist focusing on sweet and beverage technology flavor development.
P&F: What applications do you primarily formulate for? Do you have a favorite?
IF: My primary focus is on beverage categories. Beverages provide me a great opportunity for creativity, especially the alcohol sector, and, specifically, I love working within cocktail mixes. Growing up in a primarily Muslim country, I didn't have much experience with alcohol and, to this day, do not partake in libations all that much, so I have a unique perspective of flavor development.
My favorite aspect of my role is getting the chance to problem solve the intricacies within the alcoholic beverages, which comes with many challenges. I am proud of being the lead on the creation of T. Hasegawa's cloud technology development, which we feel will continue to be a success within the alcohol applications our team creates.
P&F: Are there any recent projects/wins you are particularly proud of?
IF: My most proud moment at T. Hasegawa so far is a citrus win within the beverage category that is poised for international expansion. We worked as a cross-functional team in overcoming technical challenges to make the citrus a success in the manufacturing process through redesigning equipment as well as technical development.
P&F: Where do you find inspiration?
IF: You can't replicate nature as inspiration. Growing up in the cities of Dakar and St. Louis, the memories I have as a kid exploring the orchards nearby with mango, guava, pomegranate, lemon and limes, for example, bring me joy in trying to reproduce the pleasant aromas and tastes.
When I smell an aroma, it takes me back to a memory, something from my childhood where I would visit my grandparents in the countryside experiencing fishing, hunting, fruits and vegetables being grown, or even more recently being able to travel across Europe and experiencing the aromas of a farmer's market or crowded street. We are surrounded by pleasantries I love to recreate in a bottle.
P&F: Are there any local ingredients that inspire you?
IF: The beautiful and tangy/tart citrus aroma from a green mandarin is always inspiring. I also enjoy the Californian citrus oils now that I live in California and get to experience them more readily. From Senegal, I would love to see more use of hibiscus and baobab, as well as tropical fruits in the United States.
P&F: Describe yourself in three ingredients.
IF: I would describe myself as vanilla extract, ethyl lactate and sulfur compounds. Vanilla extract because, let us be honest, vanilla ice cream is amazing and easily loved by most people; I love working with my team and am always here to help the rest of my T. Hasegawa employees.
I tend to think of myself like ethyl lactate because it is a neutral ingredient not known for a wow factor but always needed. I've been known to take road trips without the radio on, and I love the serenity. I don't need to be the star of the show and welcome the team to be highlighted as a collective effort in our customer's success.
Finally, sulfur compounds, because they add complexity and function as a big advantage to assist in lifting the flavor notes. I am fully committed to providing our customers the best product available and work with all of my colleagues to make sure we put our customers first, which drives much of our success.
P&F: Do you have any favorite ingredients to work with? Why?
IF: My favorite ingredients to work with are the sulfur compounds. Their potency and delicacy, which add such sophistication to a flavor, creates an opportunity to solve the difficulty in using them properly. Since sulfur compounds are found in almost everything we eat or drink by adding naturalness and lifting flavors in unique ways, I love the challenge of working with them.