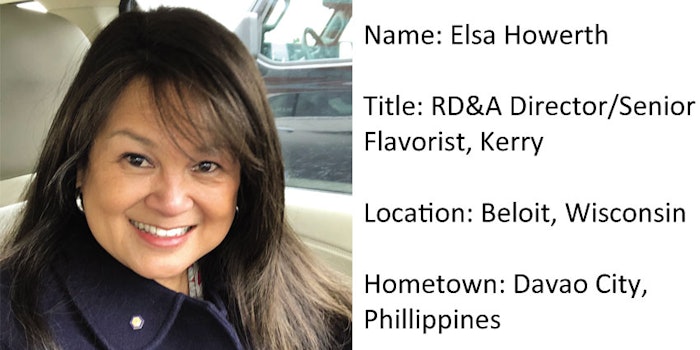 P&F+: What led you to the flavor industry?
Elsa Howerth [EH]: My path to the flavor industry was unconventional, but serendipitous. I came to the U.S. as a foreign student from the Philippines to study physical therapy. However, as a foreign student, I encountered challenges entering an impacted program when I got to my core curriculum. This led me to shift my course of study in a hurry to dietetics, and somehow, I landed an internship in product development with a food company, where I was exposed to flavors and saw how they worked their magic in food. The seed of curiosity was planted and, as luck would have it, my first job brought me to T. Hasegawa USA, a fine flavor company. Through the training and mentorship I received there, the enigma of flavors was dispelled, and my fascination and passion took over. And the rest is history. It has been 34 fulfilling years for me in the flavor industry.
P&F+: What applications do you primarily formulate for? Do you have a favorite?
EH: I consider myself a generalist, having had experience in sweet, dairy and savory flavors. I formulate flavors for a wide variety of applications, crossing categories from beverage to food to pharmaceuticals, nutraceuticals and cosmetics. Of these, the bulk of my formulations are for beverage and sweet applications in the areas of coffee, confectionery, bakery, cereals and snacks. I love the diversity, but if I have to pick a favorite, I enjoy creating flavors for coffee because of the challenge, the whole process of brewing and cupping and I don't mind drinking flavored coffee over and over.
P&F+: Where do you find inspiration?
EH: I find inspiration in the sheer challenges that today's trends in food innovations bring to flavor creations. While we are faced with development restrictions like never before, we are also dealing with challenges in raw material supply and flavor production. My inspiration these days is more about creating flavors with a pragmatic approach. Creativity truly exists when all the requirements are met in the most efficient formulation.
P&F+: Describe yourself in three ingredients.
EH: I describe myself, first and foremost, as hard-working. In terms of ingredients, this is vanillin, for me. It is a hardy material that has wide utility beyond the obvious and goes the extra mile to help with some of the taste challenges in various applications.
The second ingredient that comes to mind is cis-3-Hexenol. I have a special memory about this material. It takes me back to when I was still "green" (no pun intended). Because of its intensity, I was always timid in my creative approach, until my mentor gave me a lesson on big brush strokes. This material is impactful in a whole host of flavors of different types and irreplaceable where it is key. The fresh, green, grassy notes remind me of my continuing growth in flavor creations.
The third ingredient is rose oil. Rose happens to be my favorite flower. I'm always drawn to its aroma and beauty. As an ingredient, it adds a bit of sophistication to a flavor, as most florals do where they are unexpected. Moreover, it symbolizes passion, which I feel I have an abundance of in my work (probably to a fault) and other aspects of my life.
P&F+: Do you have any favorite ingredients to work with? Why?
EH: I don't really have favorite ingredients to single out because they're all unique. There are some I like, such as hedione, ambrette seed oil, buchu oil and rose oil, simply because I love their aromas and they function as differential ingredients when I use them. I also like Maillard reactions to help create the various cooked/browned notes to add to sweet, brown and fantasy flavors where needed because of the authenticity they bring to the finished flavors. For the most part, my favorite ingredients are those materials that contribute to bottom and middle notes in the flavors to carry the flavors through the harshness of some of the applications I formulate for. So, these can vary from flavor to flavor.