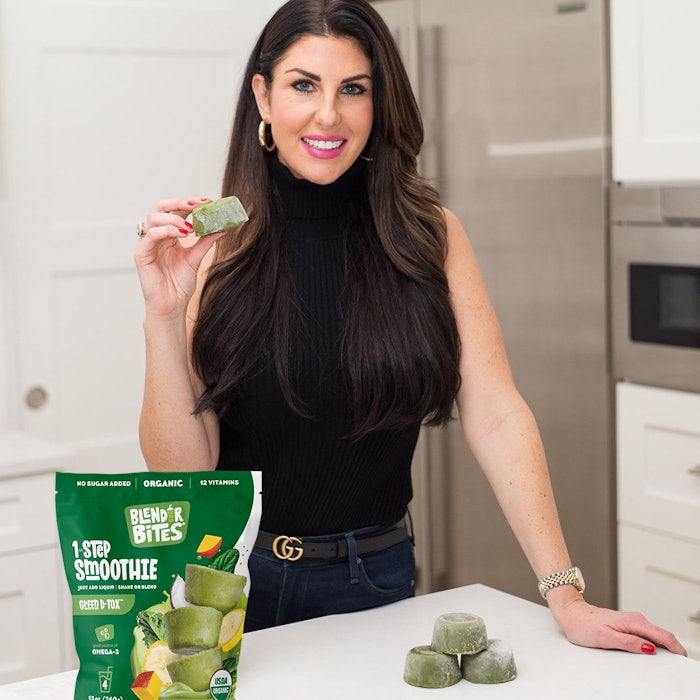 courtesy
Canadian brand Blender Bites, organic and plant-based pre-portioned frozen functional foods, has signed a partnership with actress, performer and entrepreneur Julianne Hough as a brand partner, shareholder and strategic advisor as the company prepares for a United States product launch in 2023.
Some of the flavors for the pre-portioned smoothies and frappes include: Power Berry, Tropical Glow, Mindful Mocha and Caramel Collagen. 
Blender Bites' founder and CEO, Chelsie Hodge connects to discuss the flavor aspects behind the creation and the consumer demands informing current trends in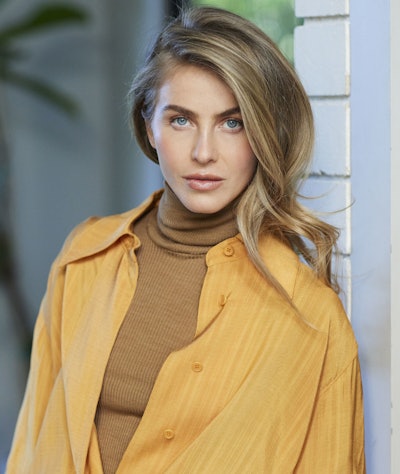 the space.
What inspired the flavors behind this line? Any details you can share behind the formulation?
Chelsie Hodge [CH]: As a coffee aficionado, I started recreating my favorite frappes at home. I wanted to be able to enjoy a frappe that was healthier than the leading store-bought options that contain over 40g sugar, 500 calories and full of insulin spiking ingredients. I wanted to drastically cut down the sugar and add in functional ingredients and vitamins to make an unhealthy and indulgent beverage a healthy option to consume.
Using pure coconut milk and high-quality coffee I was inspired to take the three most classic and widely loved flavors: mocha, vanilla and caramel as the overall flavor base. From there, Mindful Mocha was born by combining with Lion's Mane Mushroom to support mental cognition, memory and focus, Vanilla Bio-Bean incorporates 3-billion CFU of probiotics to support immunity and gut health, and Caramel Collagen uses a Bovine Collagen to support skin, hair and joints. We also add in a whole food vitamin blend which contains 12 essential vitamins and minerals.
What are some of the common trends/consumer demands you're currently seeing? What is driving these trends?
CH: There is a major need for innovation in the freezer aisles. We know that since COVID consumers have been purchasing more frozen foods, with frozen shopping contributing to over $72.2 billion in 2022 post-pandemic. In fact, many Americans have even expanded their freezer capacity since the pandemic. There is so much more information available about the benefits of eating frozen foods (they maintain many of the health benefits as eating fresh produce), however, many of the offerings in the freezer aisles haven't changed to meet consumer demands. I'm proud that we are shaking up the offerings and bringing more simplicity and healthy options to the shelves for consumers looking for healthier options that offer convenience and will save them time and money in the long run.
There is also a major trend for functional ingredients, consumers no longer just want a frozen fruit smoothie, they want value added ingredients. Extra vitamins, healthy fats, fiber, probiotics etc. Consumers are seeking healthier options that are quick and easy to prepare and they won't sacrifice health for convenience. With innovations geared towards health and convenience, we are proving that consumers can have it all -  it's one of the biggest reasons we are seeing so much success as we satisfy both demands.
What are some of the challenges of creating flavored functional applications?
CH: Over the past couple years, it has been a challenge to stay competitively priced on high quality items with inflation and costs as high as they are. We also use a very experienced team to support us in sourcing the best quality ingredients and flavors, as we don't want our products to taste artificial or fake.
We remain heavily invested in offering the highest quality products, we don't use any sweeteners and we source organic and non-GMO ingredients. All of our products have 12 essential vitamins and minerals derived from organic fruits and vegetables.