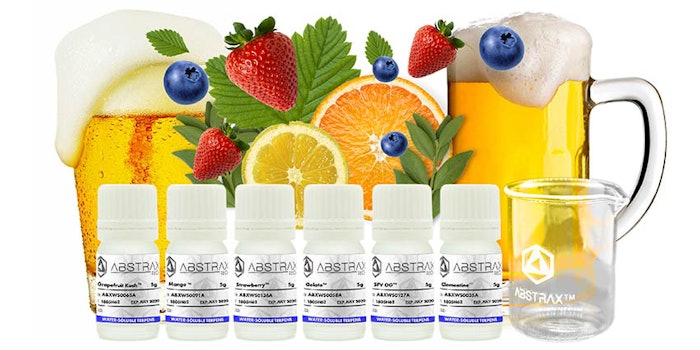 Abstrax Tech has announced its Functional Flavors range, a line of water- and oil-soluble botanical blends that provide complex flavor and aroma profiles.
The flavor and fragrance market is anticipated to reach $35 billion by 2024, and alongside this growth, more food and beverage brands are seeking all-natural flavoring agents to enhance the taste and fragrance of their products. Science has begun to reveal some of these flavoring agents may considerably influence consumers' moods and senses, according to the company.
Abstrax Tech's laboratory-driven research into cannabis inspired the Functional Flavors range of botanically derived terpenes.
The company's Water-Soluble Blends "Keg Kit" allows beer brands to experiment with adding terpene blends to brews for unique effects, according to the company. This marks a new model for product development partnerships with emerging brands.
"This science offers so much more than traditional flavoring technologies, which are often partially or completely synthetic in composition," said Max Koby, founding partner and chief executive officer of Abstrax Tech. "Instead, we strive to harness the power of nature. We leverage purified, food-grade terpenes derived from some of the most powerful plants on earth including orange, lemon, basil, lavender and chamomile. Not only do our blends make for delicious aromas and flavors, they've been proven to directly (and indirectly) affect the mind and body in positive ways."
"Our goal is to help our customers harness the power of terpenes," said Koby. "We're at the beginning of a revolution, and we're committed to working with brands one-on-one to educate them on how it all works and why it's important for the future."