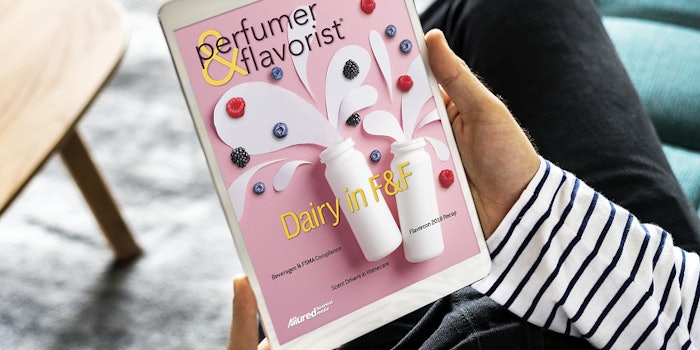 Fresh and clean in 2019. In the Jan. 2019 issue of Perfumer & Flavorist, we examine the home care fragrance market, flavor regulations, dairy in F&F and more. 
Available in a convenient, easy-to-read digital format, Perfumer & Flavorist's digital edition provides industry and technical insight to the flavor and fragrance industries. Some of the article that you might have missed in the January 2019 issue of Perfumer & Flavorist include: 
Flavor Bites: The Chameleon FEMA GRAS List. The author reflects on how the evolving FEMA GRAS list has adapted to current trends through its research, and what the list can tell us about the future.
Relighting the Flame. As scented candles lead the way in air care, fragrance compositions are more creative than ever, while technical considerations explore natural waxes and solvents for a more eco-friendly label.
January 2019: Dairy Ingredients. Get the latest on dairy ingredients with January's product roundup.
Delivered monthly, the digital edition of Perfumer & Flavorist is the quickest and easiest way to stay on top of all the flavor and fragrance industry news.