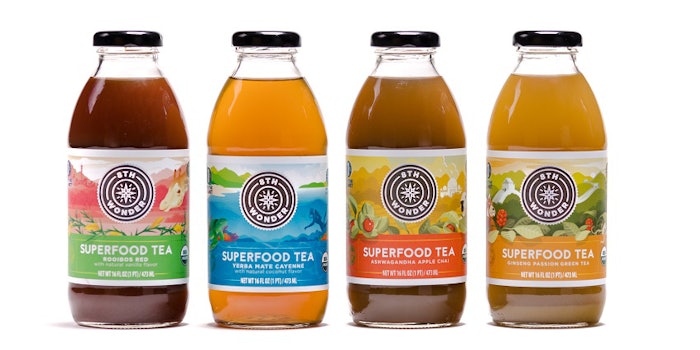 8th Wonder Tea
Colorado-based 8th Wonder Tea has launched its line of artisan RTD teas, which are brewed with ingredients sourced from around the globe.
Created with single-origin superfoods, the beverages are formulated to be non-GMO, gluten-free, low in carbs and contain no artificial sweeteners. At launch, the beverages will be available in Ginseng Passion Green Tea, Ashwagandha Apple Chai, Yerba Mate Cayenne and Rooibos Red natural flavors.
"Our goal is to redefine the tea drinking experience," said Parker Rush, founder of 8th Wonder Tea. "We considered the tradition that surrounds tea drinking and decided to turn it on its head. This is tea on-the-go, maybe for the active person looking to have a 'tea party' on top of a mountain with friends. We're the tea that takes you places."