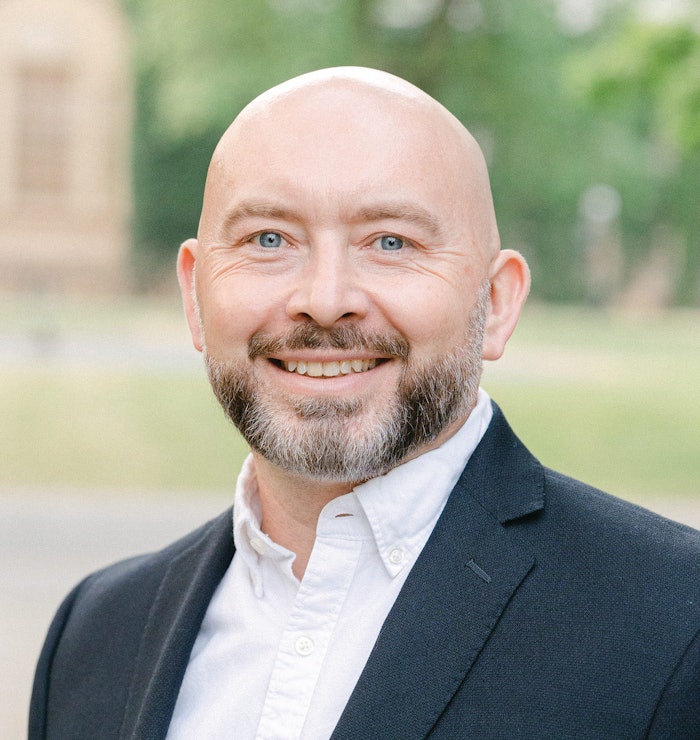 In the September 2023 issue, Perfumer & Flavorist+ (P&F+) connected with Colgate-Palmolive senior flavorist Jason Darling. In our one-on-one profile interview,  Darling shares how he came to the flavor industry, the best piece of advice he's ever been given and more.
P&F+: What led me to the flavor industry?
Jason Darling [JD]: I entered the flavor industry by accepting an opportunity with the Flavor division of ConAgra Foods (formerly Spicetec Flavors & Seasonings) in the Quality department. I had no prior knowledge of flavor creation or what a flavorist even was. My role was centered around daily evaluations of raw materials, flavor compounds, commodity ingredients, finished flavors and seasoning blends. The finished flavors were a wide variety—top notes, sweet, savory, processed/reactions, spray dries and dry blends. I spent my last three years in Quality dedicated to organoleptically evaluating and approving/rejecting every lot of inbound flavoring material for our entire creative catalog. The repetitious evaluations provided me with an ideal foundational knowledge that I used to advance myself into formal Flavorist training. During my training, I took special interest in encapsulated flavors and took pride in gaining hands-on experience learning and operating the spray dryer. I established an appreciation for encapsulated flavors, particularly while cleaning the equipment and its parts. Last but not least, my mentors were incredibly talented, experienced, and patient. I cannot praise them enough for teaching me correct flavor creation techniques and for also never holding back the knowledge they accrued from their many hard-earned years in the flavor industry.
P&F+: What is the best piece of advice you have given?
JD: I have been surrounded by incredible mentors and colleagues who allowed me to learn and grow within the real world of flavors through on-the-job training. It is very difficult to pick just one piece of advice, as I have been given so many nuggets in my career. One that applies the most is: don't be afraid to make mistakes because mistakes provide learning. I vividly remember accidentally over-pouring on specific flavor materials when compounding, then setting this mistake/incorrect flavor up to taste. My gross mistake of a higher than desired addition of a material contributed to a unique and memorable flavor attribute that I would later apply to my future creations. That is only one example of how I have strengthened my skills more from trying and failing rather than quick, easy successes. I believe that with mistakes, experience is gained. I also believe that with experience, confidence is gained. Embrace and learn from your mistakes.
P&F+: What applications do you formulate for? Do you have a favorite?
JD: I have created flavors across the categories of Sweet and Savory. I am currently creating and enhancing flavors for oral care products, which is a new chapter in my career as a senior flavorist. I have always viewed career challenges as opportunities, and I am thrilled to gain experience and grow within the Oral Care segment.
P&F+: Advice for people coming into the flavor field.
JD: Patience! Becoming a successful flavorist is a journey that requires years of commitment. Dedication is also very important—dedicate yourself to learning flavor molecules, solubility, commodity ingredients, finished applications, and flavor stability. Learn manufacturing equipment to see the big picture and understand how flavors scale up, so you can troubleshoot production issues. Immerse yourself in project work and always look to improve yourself and your skillset. Flavor creation is ever evolving and learning never ends; your flavorist journey is what you make of it.
P&F+: Are the types of projects you're working on changing over time? How are the creative demands of the job evolving?
JD: Yes, change is the only constant in life, and I have experienced change every year that I've been a flavorist. The early years of my career were spent matching flavors, creating replacements for commodities, and achieving cost reductions. When matching, I would also be tasked with removing upwards 1/3 of the cost. Creativity and understanding flavor compounds, their synergies and delivery methods were how I achieved success.
Today's consumers are more well-informed and have a deeper understanding of product labels, ingredient statements, nutritional claims and even verifying agencies. The way a product is labeled has the power to dictate consumer acceptance and purchase intent. Flavorists must be incredibly creative to adapt to consumer needs while formulating within a restricted palette. Supply chain disruptions, rising costs of goods and cleaner label materials have narrowed our materials, and we must continue to deliver winning flavor performance in finished products.