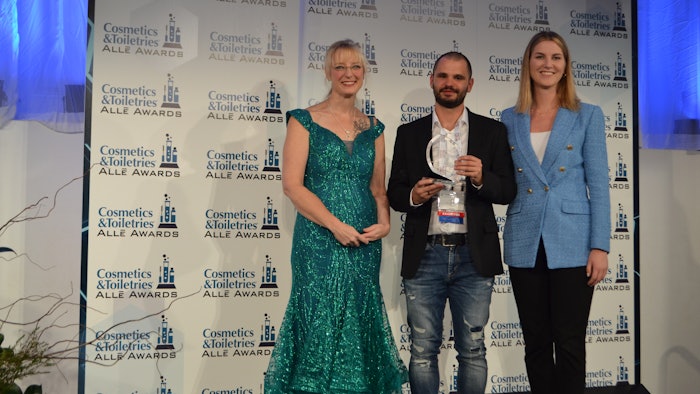 C/O COSMETICS & TOILETRIES
On September 28, 2022, the Cosmetics & Toiletries (C&T) Allē Awards dinner, took place in New York City. The Cosmetics & Toiletries Allē Awards are designed to bring behind-the-scenes ingenuity in cosmetics R&D into the spotlight. 
In the "Finished Formulas—Indie" category, Tosla Nutricosmetic's Velious Masking Technology was awarded, the Most Significant Nutricosmetic Formula–Indie: Premium Collagen Formulation.
Related: One on One: Tosla Nutricosmetics Discusses Collagen Masking Technology
The panel of judges for the awards comprised leaders from The Estée Lauder Cos., Burt's Bees, Amway, Chanel, Oriflame and L'Oréal, among others, who rated entries for parameters such as sustainability, multifunctionality, novelty, safety and proof of efficacy. Entries receiving the total highest scores were declared the winners.
Entry types ranged from active and base/carrier cosmetic ingredients; and indie, mass and prestige product formulas (from brands, contract manufacturers and suppliers); to claims and safety test methods/devices; and digital B2B and B2C technologies, detailed as follows. To view the entire list of winners, visit www.cosmeticsandtoiletries.com.
Rachel Grabenhofer, managing scientific editor of Cosmetics & Toiletries, welcomed attendees, "This dinner is about you–the best of the best–who put their mind, heart and soul into creating breakthrough and beloved cosmetics and personal care products."
She added, "These behind-the-scenes efforts sometimes feel thankless but are critical to creating safe, effective and esthetically pleasing products–and they deserve their time to shine. For these reasons and others, Cosmetics & Toiletries and our parent company, Allured Business Media, proudly introduce the Cosmetics & Toiletries Allē Awards–the 'Oscars' of beauty innovation, to honor you."