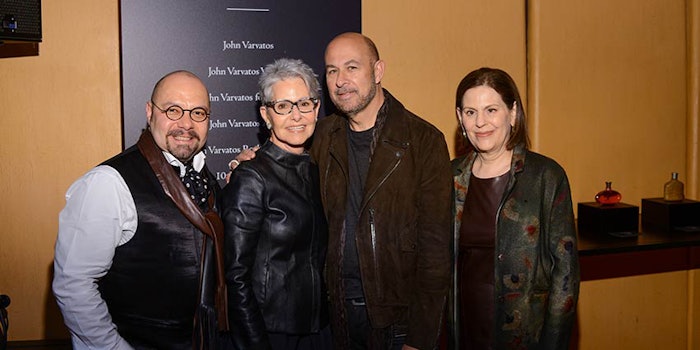 John Varvatos and perfumer Rodrigo Flores-Roux sat down with Ann Gottlieb for the latest in The Fragrance Foundation's Creatives series, discussing everything from partnerships to packaging.
On Finding Fashion
Varvatos, a Detroit native, began his career working for Ralph Lauren in the Midwest. He impressed the veteran designer so much, he was invited to join the team in New York City. "There was never a plan, there was never a roadmap that I had laid out … I had never grown up wanting to be a fashion designer." He struck out on his own after a stint at Calvin Klein, and entered the world of fragrance after partnering up with Brian Robinson.
On a Match Made in Olfactive Heaven
When it came to finding the perfect perfumer, Varvatos—known for his rock and roll edge—naturally sought a nose that shared his trailblazing, rule breaking spirit. "We had looked at a lot of perfumers, who had presented pie charts to us—what they thought, what the market was like. And then I met a guy who was passionate about a scent, about what was right for the brand, and in that moment, I realized there was going to be a path there."
Flores-Roux reached out to Varvatos, asking if he could pay a visit to the studio and get a sense of what was happening there and gauging the perfume of the space. He followed that with a visit to Varvatos' New York City flagship, which was formerly the infamous music club CBGB, where he gauged customer desires. "It was the beginning of a creative bond between us," said Varvatos.
"John has a very good nose," said Flores, and an "absolute will to learn."
On Working with Corporate
Varvatos described working with Shiseido (to whom Robinson sold his business) as the "Bermuda Triangle," with decisions filtering through offices in Japan, Paris and New York. "Communication was an arduous process." So when he was approached by Elizabeth Arden, Varvatos decided to take the leap to the more commercial-minded operation.  
Though the teams face a "daily juggle" between what they think will sell, Varvatos appreciates having a foil to his "edgy and creative" energy. "You have to glean what they do well, and assimilate that into what you're doing to expand your thought process … and hopefully show them another way of looking at it."
On His Inexorable Ties to Music
"When we sit down and think about fragrance, of course we think about things in our life—memories that you want to go back to, that were important to you, that have this smell, this olfactive sense there," said Varvatos. "But we also want to [speak to] what we do, and I think when we first got together for the first fragrance, and we talked about what the scent of that would be, what the DNA of that would be. It had that kind of rock and roll edge to it, with leather, with smokiness. We really zeroed in on that."
On the Perfect Packaging
For his first fragrance, Varvatos selected a leather accent—which he had never seen on a fragrance bottle before—because he thought it "could be very clean, very simple and very sophisticated." For Artisan's woven bottle, the inspiration was a little closer to home—literally. He took a handwoven placemat from his own home, cut it and shaped it to the flask, thinking it could be "amazing." Though Shiseido initially had doubts when it came to production, in the end, "we were able to do everything we wanted."
On Teaming Up with Nick Jonas
Despite the age gap, Varvatos says he and Jonas, who met after being seated next to one another at an event, had an immediate "super connection," on everything from family and music to personal style. Since the serendipitous meeting, the duo has collaborated on a capsule collection and a series of fragrances. The more commercially-minded scents have opened the brand up to a younger demographic (thing late teens to mid-20s), the designer noted.
"He's a very smart kid," said Varvatos. "One of the most thoughtful people I've ever met."