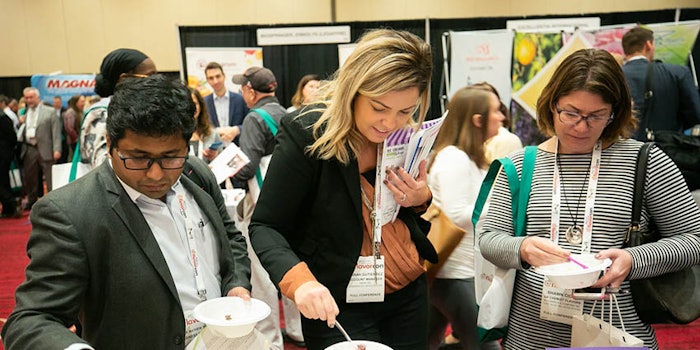 Presented by Perfumer & Flavorist magazine, Flavorcon 2018: Where Delicious Innovation Begins featured 2.5 days of presentations from leading flavor and product development experts, as well as a flavor expo. More than 550 attendees and over 40 exhibitors from 24 countries attended this year's event, which was held at Harrah's Resort and Casino in Atlantic City, New Jersey on November 13-15, 2018. The interactive conference was uniquely tailored for flavorists, consumer packaged goods professionals, applications staff, food scientists, sensory staff, sales experts and other professionals involved in the development of flavors and food and beverage products.
"I have to say, this is one of the best trade shows I have been to. We made a lot of good contacts and were really impressed with the organization," said Katharina Pueller, director, Natural Sweetener Business.
Speaker presentations explored a variety of timely topics from technical considerations for grill flavors, sweetness modulation and bioproduction, to the relationship between consumer trends and product development. Keynote presentations were from the following speakers:
Rodolfo Estrada, director, Culinary R&D/Innovation LATAM, Subway
Matthias Guentert, flavor consultant and Ketan Shah, consulting senior flavorist, Esha Flavor Solutions
Catalina Lee, worldwide director, global flavors and fragrances, Colgate-Palmolive
Kevin Ryan, senior brand strategist, Amazon (formerly with General Mills)
Colin Spoelman, co-founder and head distiller, Kings County Distillery
The Flavorcon conference featured 31 presentations, five of which were a part of the newly implemented Innovation Stage. The Innovation Stage was held in the expo hall for attendees to demo and learn about new products.
Jesse Coiro, director of business development and sales operations, Erlab, said, "It was truly an honor [to present] and we hope that we can again be a part of this conference next year. The exhibitor hours were right in line with the conference session, which minimized downtime and increased productivity at the booth."
A full lineup of the speakers can be found here.
"As a flavorist, I think Flavorcon is a great event to attend. A lot of our vendors are here, and raw materials that we use in our day-to-day creation, " said Marissa Piazza Pasky, R&D Manager/Sr. Flavorist, H.B. Taylor Co.
Flavorcon 2019
Next year's event will take place November 11-12, 2019 at the Duke Energy Convention Center in Cincinnati, Ohio. Registration and event details to follow. Please subscribe to Perfumer & Flavorist's e-newsletter for up-to-date information on Flavorcon 2019.
"Flavorcon 2018 was a tremendous success," said Deniz Ataman, Perfumer & Flavorist managing editor and Flavorcon conference director. "We've expanded our conference to include more food and beverage manufacturers to bring the flavor value chain closer together. And we introduced a dynamic experiential exhibit hall for everyone to meet, talk and taste face-to-face. We look forward to hosting the flavor industry in Cincinnati next year."
About Perfumer & Flavorist (P&F):
Perfumer & Flavorist (www.perfumerflavorist.com) is the leading technical and business content provider for the flavor and fragrance (F&F) industry. Serving the flavor and fragrance industry for more than a century, the P&F brand is the premiere information resource for perfumers, flavorists and other industry professionals. Covering flavor and fragrance chemistry, techniques, materials and industry news, P&F delivers high-quality content in its monthly print and digital magazine, weekly e-newsletter and on its website.
About Allured Business Media (ABM):
Allured Business Media (www.allured.com) a global information leader in the cosmetics, fragrance, flavors and professional skin care markets. ABM is a family-owned B to B media company that serves these industries through magazines, e-newsletters, websites and events. We deliver job critical information to our audience and connect qualified buyers and sellers.