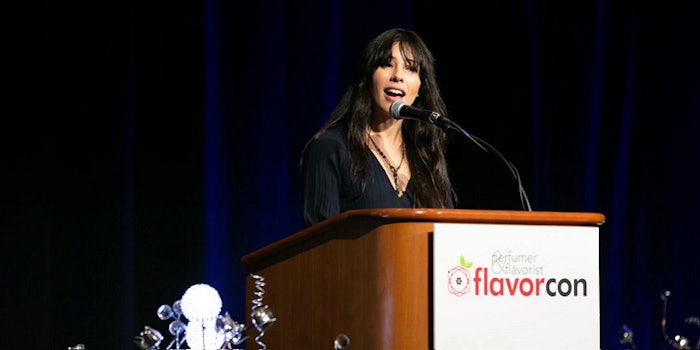 On the final day of Flavorcon 2018, attendees learned about how trends directly impact flavor formulations, the use of biotech ingredients and a taste of an independent whiskey distillery.   
Going Beyond the Clean Trend   
"Trends are flowers," said Kevin Ryan, senior brand strategist and former director of strategy and innovation for General Mills, in his opening keynote presentation on the final day of Flavorcon. Ryan went on to explain that like flowers, trends can either blossom and grow or fade and die. What's most important isn't the flower but the soil – the foundation that goes into the trend.
"When I think of the clean consumers, I'm not looking at [this product] is anti-processed," said Ryan. "I'm looking at what's underneath that. How do we start to unpack what's underneath, so we can understand what's long-term?"  
As a brand strategist, Ryan examines the elements that build the foundation for the clean trend as we know it today. He highlighted five ways to show how clean products are addressing larger consumer's concerns:  
A respite from modern living. As the world becomes faster and over-stimulated, many consumers are looking for a break from modern living. Clean products resonate with their desire for simpler times and simpler food products.  
Controlling one's health. One of the biggest appeal to clean consumers is the "health halo" that clean products are better for you. In addition to eating healthy, consumers are actively looking for ways to control their health. Clean products directly address these concerns with health claims and marketing.
Fear of the unknown. On the flip side of wanting to control their health, consumers also are often scared of unforeseen health risks, regardless of the science. Clean labeled products cut the unforeseen elements from consumer goods.
Balancing the world of extremes. Similar to a respite from modern living, many consumers are looking to bring balance to their life. Clean labeled products are seen from consumers as a way of restoring balance.  
Make food work harder. In addition to all the perceived benefits of clean labeled products, consumers are looking for their products to do more. Consumers see clean products as providing more benefits and functions for their money.
What's Sweet in Bioproduction?
Older than the wheel, fermentation is arguably one of the earliest forms of technology. Now, fermentation is opening a new opportunity to the flavor industry as a possible solution to sourcing concerns. To discuss this, Brendon Dusel, automation specialist for Conagen, presented "A Sweet Outlook on Bioproduction of High-Value Targeted Ingredients."
"Why is it one of the first technologies?," asked Dusel. "Let's look at the key qualities of fermentation. It is robust. It is relatively cheap technology. It is sustainable. Most importantly, it changes a lot of materials, such as barley and milk, into precious commodities of high value, like beer and cheese. It kind of fulfills the dream of alchemy. It transmutes the every day, the common, into something special."   
Now in the 21st century, biotechnology is expanding on the idea that fermentation can address raw material availability and sustainable sourcing. Traditional sources for production (harvesting) are often influenced by outside factors, like climate and weather influences, market turmoil and challenges with extraction. Dusel argues that biotechnology provides a solution to this, as it is often scalable to meet demand and unaffected by weather conditions or outside influence. Instead of growing the ingredient in a field, fermentation takes a substrate of the desired ingredient and an enzyme to create the desire ingredient in a vat. Finishing off his presentation, Dusel sampled an example of a bioproduced lactone and RebM.
Healthy Products With Full Flavor
The talk of ingredients and trends continue with Jonathan Anobile, assistant director of technology transfer for FlavorHealth, and his presentation on creating healthier flavors without compromising taste.
Highlighting the importance of products with low sugar and calories, Anobile said, "Looking globally at regulation and health, there are a lot of regulatory agencies, such as the World Health Organization, [that] have issued guidance on how much sugar that we should be consuming… This has resulted in regulatory bodies issuing sugar taxes, which are popping up domestically and globally. These acts have put pressure on CPGs to put lower sugar on their products by applying a tax on products that have certain sugar levels."  
Anobile discussed methods to create flavors that enhance sweetness, elongate salt tastes and block bitter tastes. When a straight sugar reduction of 50% is done in a beverage or food application, a sweetener like Stevia often has to be added to bring back the flavor and characteristics of the sugar. For salt tastes, Anobile shared his experience with sodium reduction with a major consumer brand. Due to concerns about its impact on the product, they initially reduced the product by 20% sodium with little change to consumer perception. Sodium reduction can be done either as a stand-alone solution and is compatible with yeast extracts, KCI and other sodium reduction tools.  
A Look at Indie Distillery 
Wrapping up the final day of presentations, Colin Spoelman, co-founder and master distiller at Kings County Distillery, gave a history primer on the American independent distillery market.
While Ewan Morgan's presentation on day 2 Flavorcon looked at a Scottish whisky, Spoelman traced the 350-year history of whiskey in the United States. American whiskey has seen a resurgence in recent years due to the interest in artisansal batches and production. In 1980, there were only 13 distillers and today there are approximately 1,600. However, 1,600 of the distilleries in operation today produce less than 1% of spirits sold, which are largely small batch and craft products.
Following the history of American distilling, Spoelman highlighted the hallmarks of a quality craft whiskey. Whiskey consumers and distillers are both interested in ingredient sourcing and the distilling process. Local ingredients and the return of pot stills and distillation-focused spirits have become hallmarks of independent distilleries. On the finished product side, whiskeys that are bonded (which follow strict aging laws) and whiskey with unique flavors, like quinoa, mesquite, IPA and chocolate, are becoming more popular.
Looking to the future of whiskey and how trends influence the beverage, Spoelman said, "One of the difficult things about making whiskey is you are not really able to follow trends with the speed of other food products. You have to anticipate things four to eight to 12 years out. There is comfort in knowing that whiskey rarely changes very much, and so 12-year-old whiskey will be popular today and in the future."