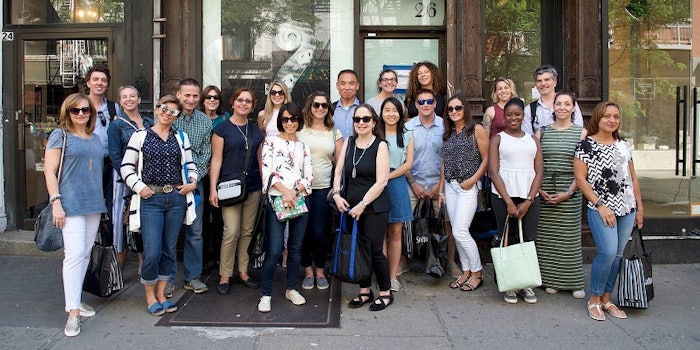 On June 12, 2018, the Women in Flavor and Fragrance Commerce, Inc. (WFFC) gathered for its 11th Annual Fragrance and Flavor Sensory Trend Excursion in New York City, organized by Amy Marks-McGee of Trendincite LLC and Jeanine Pedersen, former marketing manager, trends & communications, Takasago International, and sponsored by Costello Creative Group, Premier Specialties and Sniffapalooza.
The WFFC group began the excursion with a trip to the Flour Shop on Lafayette Street. Founded by Amirah Kassem, the Flour Shop is a retro, rainbow-inspired sweet shop that embraces the unicorn trend with splashes of pastel colors and giant gummy bears. It has been dubbed the "Home of the Rainbow Cake." Once inside the shop, the group was treated to the bakery's mini-explosion cake: a cake filled with mini chocolate balls and sprinkles. The bakery also featured its line of mini unicorn cakes, pizza cookie cakes, cake pops and other sweet treats.
After sampling some baked goods, the group of trend seekers went a few doors down to visit the Perfumariē and met with its owner Mindy Yang. Sporting the hashtag #DoYouSmell, Perfumariē showcases up to 32 new mystery fragrances on its "runway" and invites patrons to sniff their way through, while attempting to guess the key olfactive ingredients. By removing the packaging, the retail environment, the brands positioning and any celebrity endorsements, it levels the playing field to better understand what you genuinely adore in a fragrance. It becomes an environment for casual conversation and the sharing of childhood experiences.
The fragrance display is divided into thirds. The first third features throwback fragrances from the 80's and 90's, the second third showcases current market fragrances and the last third highlights up and coming scents that remain unlaunched. This sensorial concept serves as an incubator for both new and existing brands and promotes authentic consumer feedback. The group was encouraged to notate and test three to four fragrances. After a quick dry down, each attendee was sent home with a sample of the mystery fragrance of our choosing. At the end of the month, the fragrances will be revealed in an email from the Perfumariē.
Taking a break from the olfactory side, the group then made its way to Bonsai Kakigori on Canal Street. This sweet treat destination nestled inside the Canal Street Market, alongside Oba Guys Milk Tea and Snack Bar, specializes in the Japanese dessert named Kakigori, which is built from crystal clear shaved ice, pulverized fresh seasonal fruit and premium handmade toppings. Its five indulgent menu choices include Coconut Lime Crunch, Matcha Mountain, Strawberries & Cream, PB&J and Rhubarb Cobbler. The group sampled the unique taste and texture of its Coconut Lime Crunch, Matcha Mountain and Strawberries & Cream flavors.
Continuing with flavor, the next stop was for lunch at Oficina Latina on Prince Street. Oficina Latina is a Pan-Latin restaurant that prepares eclectic regional small plates in a comfortable and thematic atmosphere. With a fully stocked bar crafted from crisp white tile and warm wood, outfitted with rustic industrial seating, this restaurant was motorcycle central with LED backlit helmets, old gas tanks, gothic chandeliers, copper ceiling tiles and other memorabilia. The group's six-course menu featured shrimp, avocado and onion arepas; spicy vegan avocado salad with cucumber, tomatoes, pumpkin seeds, onions and lime extra virgin olive oil dressing; elote a la parilla (grilled corn); fish tacos with crispy cobia, shredded cabbage, radish cilantro, lime and sour cream; paella vegetariana of seasonal vegetables with saffron and olive oil; and fried plantains.
The next stop on the trend excursion was the beauty boutique of Deciem The Abnormal Beauty Company. Self-described as "a humble and happy umbrella of good beauty brands, founded on the principle of doing everything others don't do and changing the world of beauty based on this principle," the store walls were lined with beauty products.With sleek minimalistic packaging, color coding, and simple iconography paired with an incredibly knowledgeable staff, we sampled various skin products and washed our hands with body washes and soaps.
With the tagline "Fine Fragrance. Fair Price," the group's next stop was the Olfactory NYC on Mott Street. This curated fragrance shop is powered by the world's top perfumers using the highest quality natural and sustainable ingredients. With stark white walls, a polished concrete floor and a vertically-mounted display that spans the color spectrum, the retail concept is based on nine key colors and personas; five female and four male, with identities such as Avery, Riley, Jayden and Reed. Each fragrance and persona embody key visuals and characteristics such as sunny, carefree, and refreshing or ambitious, sensual and striking. Each fragrance blend has an olfactive descriptor card that explains the fragrance in finer detail. Visitors are invited to smell each and purchase as-is or customize the fragrance to their liking with additional accords. Patrons then have an option to purchase the fragrance as a rollerball or in a glass bottle and have it personalized with a name. Candles, body wash and body lotions are also for sale.
The WFFC's last and final stop of the day was to none other than Coffee & Cream by OddFellows on Houston Street. With it's red, white, and blue theme, this quaint dessert shop is considered a NYC classic. They feature 12 rotating flavors of ice cream, ranging from the classics to more unusual selections such as pizza and cantaloupe. They also serve sorbet, soft serve, and of course, coffee. Each attendee selected an ice cream and flavor of their choice to wrap the day of sensory feasting.