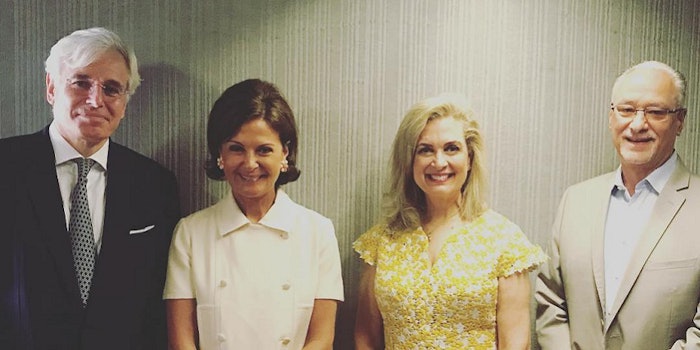 On the last day of the World Perfumery Congress (WPC), the educational conference wrapped with a behind-the-scenes look at several popular fragrances and social media's role in educating consumers about the story of perfume. 
Five Elements Behind a Successful Fragrance Brand
Keynotes Laura Slatkin, executive chairman and founder of NEST Fragrances, and Nancy McKay, CEO of NEST Fragrances, opened the day with the story behind their successful fragrance brand. After building and selling her own brand, Slatkin & Co., and developing many private label brands, Slatkin formed NEST in 2008 with a deeper understanding of consumer preferences in fragrance.
"The DNA of the brand was something that Laura established early on," said McKay. "Starting a company with her husband 25 years ago that was later sold to Limited Brands, Inc., Slatkin & Co gave Laura a lot of understanding of what the consumers are looking for."  
With Slatkin's expertise in fragrance brand development, NEST earned a reputation as a luxury home fragrance provider, before finally moving into the fine fragrance category in 2012. During the presentation, the two speakers attributed the success of the NEST brand to five principles – a wide scent range, impactful fragrances, artful design, unabashed quality and welcoming price point.
"In doing 100 private label brands, you get a wide understanding of what is happening in the industry. Laura realized that there was a trend, there was an interest ... [that consumers] wanted a brand that had expertise in fragrance, and in home fragrance in particular," explained McKay.
The Scent of Clean
Later in the day, the conversation turned from home air care and fine fragrance to laundry detergent with a presentation from Rafael Trujillo, research fellow perfumer for Procter & Gamble, titled "Tide: The History of the Smell of Clean in North America."
During his presentation, Trujillo traced the origins and history of the Tide brand and how the formula has changed over the year. Initially launching with no fragrance in 1946, the Tide product went through several ideations and tweaks throughout its lifetime. In 1953, Tide upgraded its fragrance with a fresh rose theme. Then in 1962, it was tweaked again to improve its odor longevity on clothes and a lily of the valley scent was added.
More recently, Tide has been responding to the demand for detergents with added benefits and consumers' interest in trendier and more transparent scents. In 1992, Tide launched a perfume with a citrus and floral fruity scent. Then in the 2000s, Tide upgraded its fragrance to include a white floral note and began to expand in the added benefits space, including fabric softness through its Downy line and freshness from the inclusion of Febreze scents in the detergent. Additionally, Procter & Gamble plans to list all fragrance ingredients down to .01% on its website by the end of 2019. 
Threats to the Perfume Industry  
Following these two presentations, the topic turned away from products and to the perfume industry overall. Migual Alemañy, director of R&D, F&F and delivery technologies for Procter & Gamble, presented "The Four Biggest Threats to the Perfume Industry."
In his presentation, Alemañy highlighted four specific areas that are creating obstacles and opportunities for the fragrance industry. They include: 
Excessive legislation. With regulations from the European Commission and the U.S. EPA, it has been increasingly difficult to preserve fragrance artistry and the industry. Legislation like California's SB 258 (which was eventually negotiated by industry stakeholders to prevent full ingredient disclosure) are certainly added obstacles in strengthening creativity and research.
Lack of major innovation. Though the fragrance industry is expanding, Alemañy also noted a lack of major innovations in the fragrance space. He argued that, despite the complexity of the perfumers' palette with thousands of ingredients to choose from, the increase in demand for natural, paired with regulatory constraints leads to a pressure for the market to scale back in a limiting way. 
Consumer chemical/perfume phobia. With the rise of natural products and the green trend, consumers are increasingly growing wary of chemicals, despite efforts in research from the science community to dispute it. 
Lack of unity. In addition to consumers growing increasingly concerned about chemicals, Alemañy argued that the fragrance industry lacks a unified front to address consumers and concerns.  
Sharing the Story of Fragrance 
Closing the day, Christophe Laudamiel, master perfumer for DreamAir NYC, and Josiah Ryan, senior producer, social media for CNN, presented their talk titled "New Power and Transparency in an Open Age."
During the presentation, the two speakers discussed their initiative to share the story of fragrance with the public through social media. Using Laudamiel's professional Instagram account as an example, Laudamiel explained how he uses social media as a platform to share various fragrance materials and their characteristics in perfumery to educate consumers. By using social media and other digital avenues, the two argue that you can meet the consumers' demand for more information and more transparency.