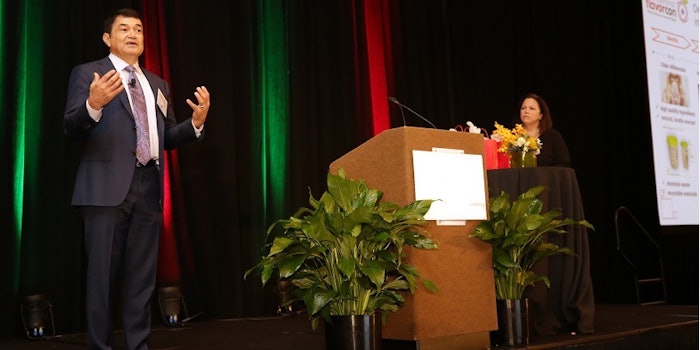 On October 26, 2017, Flavorcon 2017 wrapped with the final keynote presentation which analyzed the intentions behind consumers' desire to buy foods and beverages. During the presentation "Do You Speak Data?" Fernando Gomez Gonzalez, former director of U.S. Menu Innovation for McDonald's Corporation, and Mindy Cultra, managing director of Halverson Group, presented a framework to create successful products based on consumer situations.   
"The same person eats all these different types of foods, with different flavor profiles. The key is that they do it in different situations. They do it for very different motivations," said Cultra. "Looking at a person in totality isn't enough. You have to understand their situation and motivation."  
Understanding the Reason
During their presentation, Cultra and Gomez-Gonzalez went on to elaborate that product developers and flavorists can use these situations to better develop products. They highlighted eight major motivators behind consumers' choice, which include:  
Living in the moment
Exploring a novelty
Connecting and comforting
Avoiding and resisting
Being responsible and smart
Satisfying a craving
Appreciating and savoring
Relaxing and taking a break
From these motivators, the flavor food chain can then create products that best address these situations, and connect with a consumer on a deeper level. For example, if a product developer is creating a beverage, they might want to consider what situations that it's best serving. Is it a living in the moment type of product or a product used to relax and take a break?
"People buy products based on what they do for them. They hire things to do a job. They are linked to two things. What is my motivation? What is the circumstance that I'm in?" said Gomez-Gonzalez. "If I'm driving in the morning, I might go to a restaurant with a drive-thru that is convenient and fast. The job is to fuel my appetite, conveniently. The whole point is to understand what drives the purchasing behavior."   
The Future of Flavorcon  
Next year, Flavorcon will take place from November 13-15, 2017 at the Harrah's Resort in Atlantic City, New Jersey. The global flavor event will now take place every year.
"We are excited to share a growing and compelling conference for the flavor industry. Flavorcon 2017 was a first in many ways. For the first time, we offered breakout tracks for you all to pick and choose the educational sessions that fit your professional needs and your curiosity. We've expanded our conference to include more food and beverage manufacturers to bring the flavor food chain closer together. And we introduced an exhibit hall for everyone to meet, talk and taste face to face. We look forward to bringing you a successful conference each year," said Deniz Ataman,  Perfumer & Flavorist managing editor and Flavorcon conference director.