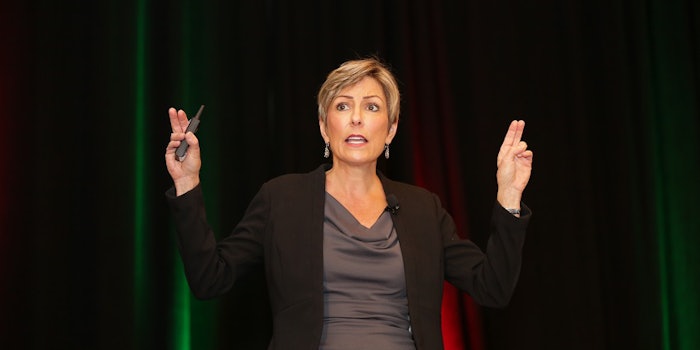 Flavorcon 2017 started with a look into the future. During her keynote presentation "Trend Formers: 6 Macro Trends Transforming Food & Beverage," Barb Stuckey gave her insight into the large trends changing flavor and food.  
"We can't assume today that we know what tomorrow's consumers want," said Stuckey. "Maybe, they are going to want food that falls apart. Maybe, they want lumpy stuff that used to be smooth. We don't know. These desired attributes are changing every day. We need to talk about the next generation of consumers."
Six Trends to Watch in 2018  
In her presentation, Stuckey highlighted six trends that will shape product development in 2018 and beyond:
The rise of the flexitarian. Roughly 6-7% of the U.S population considers themselves as either vegetarian or vegan. However, the remaining percent aren't strict meat eaters – they are consumers that are increasingly incorporating more plant-based nutrient into their diet. The flexitarian category consists of people that are making an effort to incorporate more non-meat products into their diet.  
Plant-based foods. Similarly, plant-based products with functional benefits will continue to rise in demand. Products that can be cooked up in the lab can reduce a company's carbon footprint and be more sustainable. However, questions around regulation and scaling up remain a challenge.
Perfectly imperfect. Spurred by millennial demand, consumers are looking for products that tell a story. They want products that resonate with their lifestyle and create a sense of authenticity. Stuckey related two instances where clients wanted to maintain separation in a plant-based milk product and a chunky, "home-made" texture in a cheese dip product in order to appeal to consumers' sense of authenticity.   
Upcycling. As a result of food waste, upcycling creates an opportunity for waste to be reused again in products. Consumers are increasingly looking for products that are both beneficial and sustainable for the environment.
Personalized food. Just as consumers are looking for more sustainable food, they are looking for food and flavor products that cater to their dietary needs. Genetic testing has created another avenue for consumers to better understand their food allergies and intolerances and create a personalized food profile.
Bye-bye brick and mortar. Companies like Amazon and Uber Eats have disrupted the normal channels that consumers use to purchase products. In many industries, the traditional brick and mortar stores have changed or simply vanished. This makes one wonder what the future of the grocery store will be. Will they find a way to adapt to changing demands or go the way of Borders Bookstore, Blockbuster and Radioshack?
A Taste of Tech
Directly following Stuckey's keynote presentation, Deniz Ataman, managing editor for Perfumer & Flavorist magazine and Flavorcon conference director presented "P&F Trends: Digital Bites Tech & Flavor," which took a look at the frontiers of digital flavors. During her presentation, Ataman presented the latest technologies that are changing the face of flavor.
Social media has been a great tool to communicate family news and connect with friends. Just as you can share a photo, you might be able to share a flavor. Nimesha Ranasinghe and his team at the National University of Singapore experimented with electric and thermal simulation to produce taste sensations. The "digital lollipop" is composed of two thin metal electrodes to essentially trick the taste receptors into thinking they're experiencing taste.
Similarly, the University of Tokyo's Arinobu Niijima and Takefumi Ogawa's Electric Food Texture System uses the same principals but creates the experience of chewing gummies or hard textures.
"So if we can … upload photos of our dinner excursions and our dogs in less than a few seconds, I couldn't help but wonder how the flavor, food and beverage industry could carve out its own virtual space," said Ataman.