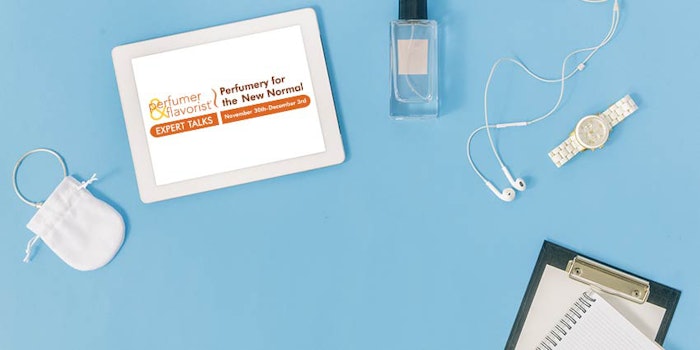 Did you miss out on Perfumery for the New Normal? We have great news: on-demand access to all four sessions is available by simply logging in with your existing credentials or creating a new registration here, but registration is ending soon!
Registration is open until Jan. 15, 2021; the programs will be on-demand until Jan. 29, 2021.
Perfumery for the New Normal featured four panels discussing the ways in which the fragrance industry has been—and will be—impacted by COVID-19, including the initial response to the pandemic; its impact on sustainability, ingredients and the supply chain; diversity and inclusion; and more.
Fragrance Leadership During COVID-19 featuring Achim Daub, Symrise; Felix Mayr-Harting, Givaudan; Christophe de Villeplee, IFF; Michel Mane, Mane; and Ilaria Resta, Firmenich.
Brand Leadership in Unprecedented Times featuring Patrice Béliard, The Estée Lauder Companies and Joanna Clarke, Procter & Gamble.
Fragrance Creativity in Unprecedented Times featuring Rodrigo Flores-Roux, Givaudan; Christina Christie, IFF; Carlos Viñals, Symrise; Cecile Hua, Mane; and Frank Voelkl, Firmenich.
Fragrance Associations on Navigating COVID-19 featuring Farah K. Ahmed, Fragrance Creators Association; Vincent Kuczinski, ASP; Martina Bianchini, IFRA; and Saskia Wilson-Brown, The Institute for Art and Olfaction.
To register, click here.
To access a session you have previously registered for:
Click on your session of choice

Log in using your registered email address to access talks.
For any registration or login questions, please contact Marissa at mesposito@​allured.​com.