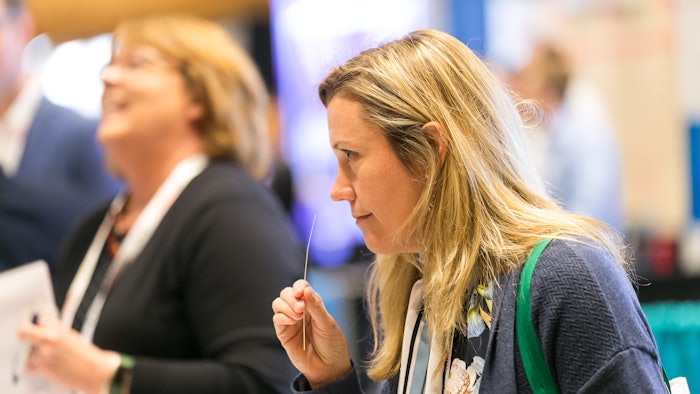 PETER WYNN THOMPSON
Flavorcon 2022 is growing closer! Still need an extra push to make your way to Cincinnati for the two-day event? Here's a sneak peek at the expo hall. In the weeks to come, we will be highlighting exhibitor booths and what each company plans on showcasing on the expo hall floor! You don't want to miss your chance at experiencing the latest tech, ingredients and products the flavor industry has to offer.
Aryballe:
Aryballe will be presenting how digital olfaction can be used for rapid formula screening in beverage flavor reformulation; the company will also have a demo of Aryballe's new olfactive library at its booth. 
Bedoukian:
Cis-5-OCTENAL (BRI 359)
FEMA 3749, CAS# 41547-22-2
Nature Identical: Lisbon lemon peel
Demo: Cantaloupe flavored drink–adds sweet, characteristic, ripe notes
2-Octen-4-one (BRI 614)
FEMA # 3603, CAS# 4643-27-0
Nature Identical: Wheat bread
Demo: Strawberry pectin jelly–adds natural, fresh-picked character
Citrus & Allied Essences:
C&A is launching 6 new molecularly distilled spice oils that can be used in a variety of applications, especially beverages and fragrances.
Erlab, Inc.:
Erlab, Inc. is showcasing its newest technology that is designed to take filtration and detection to a whole new level with the company's new HALO 2 - Commercial grade air filtration system. HALO 2 integrates Erlab's world-class carbon filtration with H14 medical-grade filtration for molecular and bio-aerosol mitigation. With state-of-the-art sensing technology for VOCs, particles, and Co2, HALO 2 is designed to provide solutions to ensure the air you breathe is always free from harmful contaminants.
Illing Packaging:
Illing Packaging is set to showcase a comprehensive line of domestically supplied aluminum beverage cans and bottles, as well as its AISmartPackaging platform--a forward-thinking approach integrating tomorrow's technologies with traditional packaging.  
Omega Ingredients
Omega Ingredients is taking a trip to Wonderland as we are doing a Mad Hatters' tea party-themed stand, so please pop by to sample some delicious peach iced tea and Omega's natural extracts. You will be able to sample many different flavors to see the company's range of quality ingredients. You will also be able to see ΩMegaSweet is the company's new generation "natural flavor" technology in action in beverage applications.
Stay tuned for more Flavorcon exhibitor highlights to come as we grow closer to the event! Interested in participating? There's still time! Contact Paige Crist, pcrist@allured.com, ASAP to find out how.