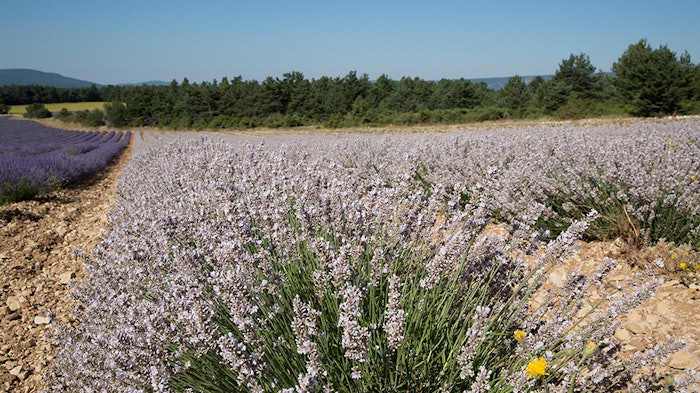 Symrise has partnered with Crieppam on the next generation of Symrise's white lavender plants. They are to be certified by Plants Sains within three years. This project is designed to secure a more sustainable supply chain by providing partner farmers with healthy lavender plants and traceability.
Related: Symrise Launches Diana Food Strawberry Ingredients
Symrise has been collaborating with Crieppam research institute since 2020 on a bio-regeneration project to produce 100% certified healthy lavender plants. The pair has been working towards cultivating lavender in a more sustainable way since 2012.
Crieppam will now host the newly generated first generation of Plants Sains and drive the multiplication for nurseryman partners.
The Plants Sains certification program started in the 2000s on the recommendation from INRAE. Major lavender producers have carried it in response to a strong decline of lavender and lavandin supply due to disease from bacterial infection. The network aims at producing seeds guaranteed free from Stolbur phytoplasma and all other diseases at the time of planting. Since the creation of the network, the production of healthy plants has increased and reached more than 10 million certified plants each year.
On the hunt for a position in F&F? More details here.

Beatrice Favre-Bulle, senior vice president, Perfumery Excellence at Symrise, said, "In late 2020, our partnering lavender farmers requested us to join the Plants Sains system to fight against a chronic lavender disease. A bacterial infection causes it and leads to significant harvest losses affecting the farmers' income. To secure the Symrise white lavender supply chain, Symrise took immediate action. In the frame of our year-long partnership with Crieppam, we have initiated a bio-regeneration project. A novel in-vitro laboratory technique produces 100% guaranteed bacteria-free seedlings. The technique uses the maturation of stem cells called Meristems. They consist of very young, undifferentiated and healthy cells present in the buds at the tips of stems and roots. They can multiply and transform into bacteria-free structures, which will generate a healthy plant."
Want to know everything going on in flavor & fragrance? Sign up for P&F+'s newsletter. You can also follow along on Instagram and LinkedIn.